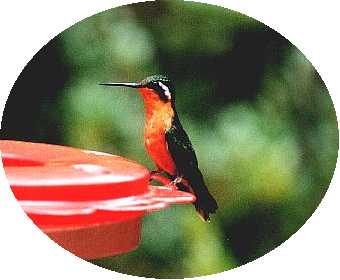 Two Weeks in Costa Rica: 31st March – 14th April, 2000

Author: Keith Martin. 17 Southwood Court, Weybridge, Surrey KT13 9AT, U.K.

keith.martin@rhul.ac.uk

Photos: Henry Martin.

Introduction

This was my long-awaited first trip to the Neotropics, the most avian species rich region in the World. I'll confess to having barely been able to place Costa Rica on the map before we went (I would have put it far too close to the USA than it is, at least geographically) having had all my previous tropical experiences in the Old World. Thus when George Gerdts proposed putting a trip together, and even worse my father threatened to go with him, I knew the game was up at last. It was time to lose that toucan virginity.

This report is in three parts. The first bit is an introductory rant. There then follows a trip diary, scattered with little bits of practical advice on locations visited and some bird highlights. Finally there is the bird list. If you get that far you've done well.

Part I: Introductory Rant

Logistics

This was a dream trip from the preparation point of view. In other words almost none, and in this respect I do not have that much advice to impart. Awesome laziness, or perhaps the benefits of a late participation. George is a dude, he'd been before, what did we need to think about? George conceived and gave birth to the trip through the help of his friend Ralph Carlson, and members of Ralph's Costa Rican organisation EcoTeach, who normally instrument exchange visits to Costa Rica for North American high school students. George was able to piggyback the EcoTeach infrastructure to run a birding trip, with an eye to possible future commercial ventures down that road. EcoTeach provided the transport and ground assistance (driver plus local naturalist guide). George planned the itinerary with the help of the local guide. We did the birding. The "we" were Henry and myself, George, and two of his friends from Washington State, Marianne and Martijn. We were the guinea pigs so to speak, or should that be the agoutis ? We did fix up an additional few days on the Osa Peninsula at the end of the trip. We researched this on the web – Costa Rica is kind of an organised place in this regard.

Costa Rica

Costa Rica lies at the southern end of the Central American isthmus, sandwiched between Nicaragua and Panama. Neither of these are very large countries, and Costa Rica is smaller than them both. What it lacks in size Costa Rica makes up for in geographical diversity. A central ridge of high mountains neatly divides the narrow country into a number of quite distinct ecological zones. To the east of the mountains lies the Caribbean coastal plateau, characterised by extensive plantations, lowland jungle and a humid climate. Northwest of the mountains is the region of Guanacaste, which is seasonally dry and covered by grasslands and deciduous forest. The southern Pacific coast is wet, and has extensive areas of tropical rainforest and some of the most gorgeous beaches I have ever seen. The mountains themselves protect several different habitats, but most famously the magical cloudforests, cool and damp throughout the year. Add in some coral reefs, some mangroves, some huge lagoons and you get the picture. For a naturalist this place means business.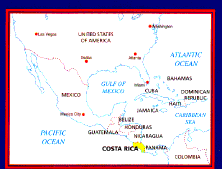 Although I feel fairly unqualified to comment much on Costa Rican culture (whatever that might mean) as we saw so little of it, my general impression was that this is not the most distinctive aspect of the country. American English was widely spoken and the US dollar was accepted everywhere (at a fair exchange rate). The general travelling costs were two-tiered. Tourist lodges and restaurants were not cheap, with prices only slightly below standard US rates. However off the beaten track the prices dropped and I imagine more closely matched the going rates. Local air travel was very good value, and once you'd seen a few of the road surfaces you understood why! Costa Rican food did not seem particularly distinctive, and indeed we had a great deal of trouble chasing it down as tourist accommodations seemed too keen to serve US-style food. The Neotropical staple of rice and beans was very hearty, especially in its breakfast form of gallo pinto, but nothing stood out on the dining table. Costa Rican beer was pretty gutsy and certainly held its own after a hard slog in the rainforest. But let's not forget the coffee – umm yes, geen slappe koffie (as they liked to say in my last workplace). All we had expected and more.
The Ticos themselves were also everything they had been billed to be - friendly, good-natured, courteous, and keen to chat. If Costa Rican culture perhaps lacks other identifying features, then it is the people and the land that define it. Beautiful people, beautiful country. Pura Vida!
Conditions
Our visit coincided with the late dry season in Costa Rica. This translates roughly as idyllic in San José and the Valle Central (mid 20's and dry); warm and sticky (but no rain) on the Caribbean coast; hot and dusty dry in Guanacaste; cool but relatively dry in the cloud forest; warm and incredibly humid on the southern Pacific coast. We were rained on seriously only one morning at Monteverde, and regularly overnight on the Osa Peninsula. All in all, pretty damn pleasant. The advantages of a dry season visit were of course universal access and the lack of need for our lovingly transported gumboots. However it would be nice to see all these places in the wet, and especially to see Guanacaste looking greener, and the swamps a bit swampier.
Irritations (anthropogenic or otherwise)
Well, refreshingly few to be honest. I am particularly pleased to report an almost mosquito free experience. I barely even needed to apply repellent, and Henry, always a magnet for these animals, had to treasure his few bites very tenderly. The leeches of the Old World tropics were just a non-issue here. The much-maligned chiggers, small grassland mites, did not make a single appearance (to my knowledge) so maybe we did not try hard enough on that front. Perhaps we lucked out on the time of year, or maybe simply didn't crash through enough bushes. I exercised a common sense rule to drinking local water, but only added puritabs in a few places. If in doubt, drink beer! (Especially Bavaria.) We did encounter a few snakes, mostly harmless, or so we were told. Rather ominously however, on two of the few times we walked off track we saw Coral snake lookalikes, and rather than place too much faith in Batesian mimicry theory, we gave them both wide berths. On the anthropogenic side our visit coincided with a round of general strikes which manifested themselves most awkwardly in the form of national roadblocks. A few subtle itinerary changes and some cunning diversions thankfully prevented too much first hand experience. In fact the only time my life was even vaguely threatened during the whole experience was when a White-faced Capuchin threw bits of tree at me in Pacuare Reserve. Bastard.
Effort
Our priority was to see the varied habitats of Costa Rica, with an emphasis on (of course) the birds. As a result we probably covered rather too much ground, tending to move on at least every other day, often at good birding times of day. Although distances were short, road surfaces made them seem not, and our agenda may have been a tiny bit ambitious. That said, we did achieve the main objective, and plenty was left to see on the proverbial next visit. At each location, within our time constraints, I would say we put in reasonable effort. Not that this eliminated time for the odd extended lunch break, quiet siesta, beer on the veranda, or swim in the pool. The binoculars were always within drawing distance! We did not put in much night effort (too exhausted!) I'd say our final bird list was satisfactory under these conditions, if perhaps not quite as long as Mario, our local Costa Rican guide, wanted it to be...
Itinerary
Credits for the itinerary go to George and Mario. The two letter site codes introduced here will be used later in the report.
31st March

Valle Río Savegre

RS

1st-2nd April

La Selva Biological Station

LS

3rd April

Pacuare Reserve

PA

4th– 5thApril

Tortuguero National Park (and surrounds)

TO

6th April

Transfer to Cañas area and La Pacifica

LP

7th April

Palo Verde National Park

PV

8th April

Santa Elena / Monteverde Reserves

MV

9th April

Transfer to Tárcoles and Río Tárcoles Bridge

TR

10th April

Carara Reserve / Río Tárcoles Mouth

CA

/ TR

11th–12thApril

Marenco Reserve

MA

13th April

Corcovado National Park

CO
Other site codes used in the text are Palmar Sur area (including transfer to Marenco) PS, and San José SJ. Note that TR is used for the entire Tárcoles area, with the exception of Carara, and includes Punta Leona.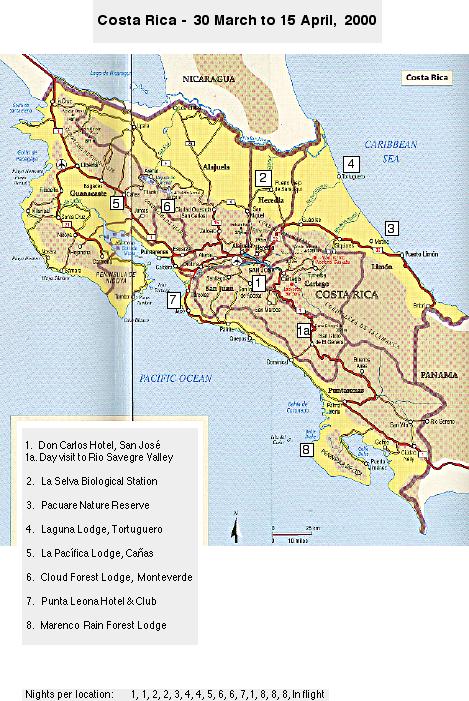 A Little Bit on the Subject of Guide Books…
[1] A Guide to the Birds of Costa Rica, F. G. Stiles and A. F. Skutch, Cornell U. Press, 1989.
[2] A Travel and Site Guide to the Birds of Costa Rica, A.D. Sekerak, Lone Pine Publishing, 1996.
[3] The Ecotravellers' Wildlife Guide to Costa Rica, L. Beletsky, Academic Press, 1998.
[4] Neotropical Rainforest Mammals: A Field Guide, L.H. Emmons, U. Chicago Press, 1989.
[5] A Neotropical Companion, J. Kricher, Princeton U. Press, 1997.
[6] Costa Rica, Fodor Travel Publications, 1999.
[7] The Birds of Costa Rica, R. Rogers, International Field Checklist Series, Clearfish, 1992.
[8] Birding Costa Rica, B. Forrester, Trip Report, 1996.
[9] Distribution and Taxonomy of Birds of the World, C.G. Sibley and B.L. Monroe, Yale UP, 1990.
The guide book for this part of the World is undoubtedly [1]. I found it comprehensive and fairly easy to use. It is heavy to carry around, and a good tip is to pull the illustrations out and bind them separately for taking out into the field. The only slightly annoying aspect is the fact that the illustrations do not occur in the same order as the descriptions, but that's a small niggle. The site guide [2] was not very useful. It does not provide comprehensive checklists for sites, but rather seems to be an amalgamated set of trip reports from the author's own personal travels. At least it is first hand information. It has proved to be a more interesting read having been to some of the places than it appeared to be before we went. I thoroughly enjoyed reading [3] before travelling, although it is not a field guide. It has some good overview information on Costa Rican wildlife. The plate section has big illustrations of common species, but the text space is wasted on information such as alternative names and parks where the species are seen, when basic field information might have been more informative. George carried [4], but to be honest we saw so few mammals it was barely worth it ([3] might have been adequate). I have subsequently read [5] and cannot recommend it highly enough - very readable and absolutely fascinating if you want a bit more on the ecology of the neotropics. We didn't use [6] that much, except for basic background information. [7] is a handy portable checklist and [8] proved an interesting alternative experience against which to compare our efforts.
And a Little Bit on the Subject of Guides…
This was the first trip that I have been on that was accompanied by a local naturalist guide. A good naturalist guide should of course enrich a trip by providing knowledge and information otherwise unobtainable by a short-term visitor. That said, I do like to do as much of my own discovering and species identification as possible. In some senses we got the best of both worlds in Mario. He was a great companion, a larger than life bundle of enthusiasm, the main architect of the itinerary and a competent fixer on the ground (and who would argue with him?) He was clearly keen that we had a good time, he had a spotting eye second to none and emphatically loved his birds. He was a local Tico and he spoke excellent English. However, Mario was a bit too keen to maximise our sightings list on which, perhaps, he regarded his status as a guide depended, and he let his imagination over-ride his knowledge at times. Nor could he readily admit a miscall, a failure to locate a target species or a gap in his extensive knowledge of Costa Rican birds. I was slightly annoyed that on the odd occasion it felt as if we were not identifying species with the help of our guide, but rather despite our guide. Nonetheless Mario brought colour and spice to the trip and produced a bird list second to none, including ours.
Nomenclature and sequence
For ease of personal convenience the nomenclature and sequence follow Rogers [7], who in turn uses the terminology of Sibley and Monroe [9]. The order differs slightly from [1]. Note that at least two of the species observed by us have, I understand, recently been split. Thus we identify the Cocoa Woodcreeper as a separate species from the Buff-throated Woodcreeper and split the Scarlet-rumped Tanager into Passerini's Tanager on the Caribbean coast and Cherrie's Tanager on the Pacific coast. Common names are used throughout this report.
Acknowledgements
My thanks go to George, Henry, Martijn and Marianne for being excellent travelling companions. Particular thanks to George for putting the whole deal together and inviting us to come with him. Mario, for his few sins had many blessings, and his company was enjoyed and his hard work appreciated. Sergio the wheel maestro was also a jovial companion and I hope he enjoyed all the birding lessons. Thanks to José for his heroic driving to Río Savegre in the Corolla. Speaking of which, many thanks to Inte for lending us the wretched thing in the first place, and for his superb ground support throughout the trip. Ralph Carlson (whom I never met) deserves credit for putting EcoTeach together and supporting our venture in many ways. Thanks should also go to Pilar and Gustavo and all the Marenco crew for making our stay there so interesting. And of course thanks to Henry for cajoling me to go in the first place.
Organization for Tropical Studies
The Organization for Tropical Studies (O.T.S.) is a non-profit consortium of over 50 universities and research institutions that facilitates research and conducts tropical forest conservation. The OTS own three biological stations in Costa Rica, two of which we visited. I would urge any visitors to Costa Rica to consider supporting the OTS activities and to take the time to learn a little bit about the ecological issues and environmental projects that OTS research has been investigating in Costa Rica and elsewhere. For more details see
http://www.ots.duke.edu
Thursday 30th March
Mutiny over Houston County
We left Gatwick in a gaudy yellow NY2000 celebration Continental Airlines Boeing 777. I whiled away the hours to Houston studying the plates of Stiles and Skutch and deciding that it would all be a whole lot simpler if we just didn't bother seeing any woodcreepers or tyrannid flycatchers. Despite more than 11 channels the only vaguely appealing movie was Mutiny on the Bounty, but I had no regrets about watching it – what a swashbuckler! The woman next to me was clearly an Anglo-American hybrid (proving that we're not allopatric species after all) and devoted her days to buying up properties in Britain and selling them to rich Americans. Clearly a profitable enterprise, if not soul enriching. At Houston terminal English suddenly became the second language and I started to wonder if we really knew what we were in for, Henry and I having an extensive Spanish vocabulary between us of about three vital phrases, only two of which concerned beer. Fortunately Ricardo, a Costa Rican employee of Intel who was trying to hide from his boss further down the plane, told us that in Costa Rica you only needed to know one phrase – pura vida - which generally handled most situations. We were met at San José by Inte from EcoTeach, who bundled as through the capital to the delightfully rustic Hotel Don Carlos, tucked away in a quiet suburban street. Apart from the gratuitous Costa Rican painted cartwheels, the Don Carlos boasted that most modern of necessities – an email terminal. Pura vida already. "Hello Mum, Greetings from San José" - left click – send.
Friday 31st March
On ascending the mountain of death
We woke in that frenzied state of anticipation of being in a new environment that perhaps only other birders can really relate to. The first call of the morning, from the hotel courtyard, was an explosive whistle which we several days later traced to Costa Rica's national bird, the exceptionally drab Clay-coloured Robin (but what a songster). The robin unfortunately woke up Bartola, the Don Carlos' cruelly confined Scarlet Macaw who proceeded to shriek everyone else awake. At reception we first met with Mario, our big and bouncy naturalist guide, who quite correctly had decided that rather than have a day in San José waiting for the others to arrive, we should get out there and have an adventure. Little did we know exactly how adventurous squeezing into Inte's Toyota Corolla for a trip to the Valle Río Savegre was going to be…
José superbly wrestled with the steering in an attempt to get the Corolla out of the suburbs of San José and up the Pan-American highway into the Cordillera de Talamanca. We all collectively willed the car up the road as it twisted and arched into the ranges. It was with a combination of relief and amazement that we reached the pass near Cerro de la Muerte, scattering Rufous-collared Sparrows in our wake and pulled into a trucker's stop to have the first (and by no means last) gallo pinto of the trip. Reinforced by a hearty breakfast, José somehow managed to force the car to make a sharp turn right just over the pass, and we started to plunge down a rough, steep and twisty track into the valley of the Río Savegre. The views were superb and patches of cloud forest hugged the valley slopes, while Sooty Robins perched on all the fence posts. José's knuckles turned a curiously white colour. Half way down I called a halt from the front as a large bird swooped across the road and landed high in an overhanging tree. Out we piled and lo, a Resplendant Quetzal became about the third bird of the trip, spectacular ribbon-like tail draping from the canopy.
At the bottom of the valley we stopped at Cabinas Chacon and spent an infuriating 30 minutes at the hummingbird feeders, panicking, whilst Mario appeared to call out random bird names. In our neotropical innocence we did not realise at this stage that Mario was fallible but fortunately Henry has some photographic documentation that has subsequently cast new light on a few of the tiny feeder visitors (what's this one then...??)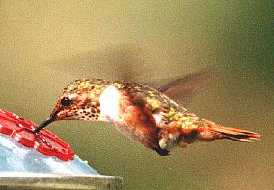 The balcony at Cabinas Chacon was hard to leave with Red-tailed Hawks and Black Vultures circling overhead, Flame-coloured Tanagers singing in the bushes and a pair of gorgeous Long-tailed Silky Flycatchers perched silently on the wires. A track led out from the back of the cabins along the river past a small pond. A flock of a dozen Sulphur-winged Parakeets streamed into a tree at the edge of the forest and my worst fears were realised by our first encounter with several non-descript tyrannid flycatchers. Help help! Mario assured us that he was well-known in the Costa Rican guiding circles for having the 'tyrannid gift'. Thus he confidently picked out our peewees and emphatically separated our empidonaxes. The jury remains out on all but the little Black-capped Flycatcher that popped out of the sedge five metres from the track. After all, it did have a black cap… A short hike into the forest was very productive, especially as we came across a small mixed flock. Mario almost wet his pants at the sight of a bird he called excitedly as a Silvery-fronted Tapaculo. Henry and I thought it looked rather like a wren. We failed to find more quetzals at Mario's special stakeout and we were frustrated by the failure to locate the source of the squeaking gate call of the Black-faced Solitaire. We did see a small falcon fly across the track which Mario claimed was Orange-breasted, although we failed to gather any field marks other than a marked white collar. There were less doubts concerning the Ochraceous Wrens in the bushes back at the cabins. And even fewer doubts about the quality of the fresh blackberry juice that we were served on our return.

After lunching and taking a siesta on the balcony, I tried to soothe José's genuine concerns about getting the car – and us - back out of the valley. His fears proved to have considerable founding as the Corolla decided that Mario's substantial frame was not suited to the back seat, and then a few metres later not to the front seat either, as the car struggled to climb back up the hill. There was no alternative other than to enjoy some enforced birding as we hiked the steeper stretches of the road. Meanwhile José alternated between crawling forwards past us in a throaty cloud of carbon monoxide gas and forlornly slipping backwards behind us once again in a puff of Spanish cursing. Corollas always get there in the end, and this one did, but only just. When we finally reached the highway once again, the pilot pressed the seatbelt sign and all passengers obediently returned to their seats. The heavens opened, the sky blackened and José faced yet further perils on the drive back down to San José with appalling weather conditions, a car with poor lights, unreliable steering, and three loudly snoring passengers. A great start to the trip - but toucan free.

Bird of the Day: Resplendent Quetzal. The mother of all trogons.

Mario's Controversial Bird of the Day: Orange-breasted Falcon. According to Stiles and Skutch, this species has "no definite sighting in Costa Rica for 30 years". The alarm bells had started to ring…

Valle Río Savegre RS

This was an excellent, and relatively secluded, birding location and would have been well worth a visit of several days. Good accommodation options looked available at Trogon Lodge and Cabinas Chacon. We can vouch for the catering qualities of the latter. There seemed to be plenty walking trails in the region of both lodges. A superb walk would have been to start at the highway and hike down the road into the valley, passing through several different elevation regimes. In particular, we did not manage to spend any time at the summit of the pass and related ecotones. The close proximity to San José and quite idyllic climate would make this area a particularly good first stop on any Costa Rican trip.

Bird highlights: Gray-tailed Mountain-Gem, Magnificent Hummingbird, Scintillant Hummingbird, Volcano Hummingbird, Ruddy Pigeon, Sulphur-winged Parakeet, Acorn Woodpecker, Spotted-crowned Woodcreeper, Sooty Robin, Black-billed Nightingale-Thrush, Ruddy-capped Nightingale-Thrush, Black Phoebe, Boat-billed Flycatcher, Black-capped Flycatcher, Long-tailed Silky-Flycatcher, Resplendent Quetzal, Collared Trogon, Flame-throated Warbler, Slaty Flowerpiercer, Yellow-thighed Finch, Flame-coloured Tanager, Black-thighed Grosbeak, White-collared Swift.

Saturday 1st April

The bird with the enormous yellow bill

We met the rest of the party over breakfast while a flock of Crimson-fronted Parakeets screamed from a bountifully flowering tree across the street. Mario completed the first of his rather colourful bird lists and I questioned at least half a dozen of the species. It was an ongoing game that we all only latterly grew a bit tired of. Alas no Corolla today. In its place was a shiny minibus complete with air-conditioning, roofrack and burly driver Sergio – three mod cons that we would have struggled to survive without. We left San José at 8.00 and traversed the spectacular Braulio Carrillo National Park, clouds of steam billowing from its verdant canopy. The increase in humidity was striking as we dropped down from the coffee plantations and mild air of the Valle Central into the warm and sticky Caribbean lowlands. Around mid-morning we bumped along the short entrance drive to La Selva Biological Station. Despite the heat the birds were still quite active and as our papers were scrutinised at the gate we admired a Long-tailed Tyrant and a Gray-capped Flycatcher on the wires and spilled out of the bus to stare up at two distant King Vultures steadily working the high thermals.

It would be no exaggeration to say that La Selva proved to be a veritable avian paradise and the few hours birding around the headquarters were one of the most memorable of my life thus far. Without walking more than 200 metres from our cabins we saw a never ending stream of species pouring into the trees around the reception area, Rufous Mourners, Masked Tityras, Gray-headed Chachalacas, Golden-hooded Tanagers,… A pair of Black-cowled Orioles were busy weaving a nest underneath a banana leaf by the office. The most enormous fat Green Iguana that I had ever seen (which wasn't hard as it was my first) sat on the boat ramp and slowly demolished a pile of freshly fallen guavas. Ungainly pheasant-like Gray-headed Chachalacas fumbled in the branches overhanging the canteen roof. It was action thick and fast and seemed dangerous to even go inside for lunch. After briefly dragging ourselves indoors to fuel on rice and beans, we walked down to the edge of the river, where a big suspension bridge spans the Río Puerte Viejo. By the banks of the river a strange mechanical creaking led us to our first sightings of Keel-billed and Chestnut-mandibled Toucans whimpering high in the treetops. Pura vida. The ultimate neotropical birds and just what we'd come all this way to see. On the other side of the river, in a sizeable clearing, were the scattered prefabs, mountain bikes, computers and lines of gumboots of the La Selva research students, clearly all having lined up a very nice little field number for themselves thank you very much. Not much was happening in the slow pulse of mid afternoon, but we found a surprisingly active Three-toed Sloth and Henry tracked us down a Rufous Motmot, perched cryptically in the middle of a tree by the clearing's edge.

By late afternoon the agoutis started to boldly bounce around the clearing and Mario anxiously whisked us off back up to the entrance to look for a bird he thought would be the highlight of our trip (a tough call given that some of us had just seen our first ever toucans)! We did see all sorts of nice things like Striped Cuckoo and Rufous-tailed Jacamar in the rank grassland at the edge of the road, but it was the Pink-billed Seed-finch that Mario sought. At the end of the day's play he had seen one, we had not.

The La Selva canteen came up tops at dinnertime and it was time for the daily bird list competition. At the end of a heated discussion, Mario was a clear winner by an impressive 96 species to 69. To cap his victory in most emphatic fashion, he reached underneath the table and amazingly produced a live female Red-capped Manakin that had worn herself out trying to find the refectory door. Unlike at least 27 of the species in the bush, there was no disputing the bird in the hand, so it was a final score of 97-70, liberation time for Ms Manakin, and bedtime for the rest of us.

Bird of the Day: Keel-billed Toucan. Oh yes….

Mario's Controversial Bird of the Day: Pink-billed (Variable) Seed-finch (-eater). "Look! There! No - there! It's just gone down! You saw it Henry didn't you? Did you see the huge pink bill Martijn?"

Sunday 2nd April

Concerning a fruitful offering to the piranhas

We awoke just before daybreak to the roaring of Mantled Howler Monkeys somewhere near the river. Lions up trees. I took a private stroll down the entrance drive at first light and had a short stand-off with a pair of Collared Peccaries who clearly knew which of the three of us had genuine rights to being there at that time in the morning. The dense sedge on either side of the road poured out a suite of gloriously unfamiliar calls. Back at the canteen some Crested Guans were launching themselves ungracefully from the treetops. La Selva is the kind of place where this is all quite normal just before the first rice and black beans of the day.

Hiking our first forest trail we (not that surprisingly) discovered birds in the rainforest interior to be rather few and far between. Although the horribly civilised concrete trail permitted quiet and secure walking, our hike out to the arboretum was largely accompanied by intermittent swelling buzzing waves of cicada song. We almost walked right past a Great Tinamou pottering by the trail, and we glimpsed a two metre long Indigo Snake deftly threading and slithering through high branches in the lower canopy while a choir of Long-tailed Hermits piped invisibly from the dense understorey. The arboretum was quiet, but shafts of brilliant sunlight sliced through the giant trees and delicate clouds of butterflies danced in the forest gaps. We accelerated with ease past a healthy population of the incredible walking palm trees, who allegedly can propel themselves at the princely speed of up to 20cms a year on their tottering stilt roots. Even here the birds were elusive, with the exception of Scarlet-rumped Caciques fluttering high in the trees and a Blue-black Grosbeak nesting in some thick shrubbery at the fringes of the forest. Crossing back over a small stream into the jungle, a Buff-rumped Warbler waved its tail from a small boulder in the water and we headed back towards the station. Further upstream we stood on another more substantial bridge above a waterfall and watched a Bay Wren noisily hunting insects at eye level in mid-canopy. Nearby a silent Semiplumbeous Hawk stood careful watch and we craned our necks and strained our eyes in search of a diminutive Black-capped Pygmy-Tyrant, at 6.5 cm and a mere 5g, one of the smallest birds of the trip.

After lunch we crossed the river via the gently pulsing suspension bridge to watch a Green Ibis fly upstream and Mario toss fresh guava down to some piranha-like fish, which energetically thrashed after all the offered morsels. This time we took a wide bike trail for a few kilometres through much taller and more open forest than the morning's hike. Even by the late afternoon the birds were very sparse inside the forest, and we had to settle for an extensive tree appreciation session, broken by the occasional tinkle of a bell as gumboot-clad students hurtled recklessly by balancing dangerous assemblages of gardening equipment, clipboards and radio transmitters.

Back at HQ the beat of a two-week old (and I suspect still running) party in the village carried through the tropical night while I made a half-hearted attempt to do some spotlighting. The net result of a short search was two Common Pauraques and a rabbit. In the luxury of our six-bed dormitory for two we sank a pair of specially smuggled Henry beers from Washington and listened to an intense storm lash the wooden roof. In another life I will return to La Selva as a bronzed American biologist. I've got the binoculars, the backpack and the boots – it's just the bicycle I left at home.

Bird of the Day: Great Tinamou. A rugby ball with legs.

Mario's Controversial Bird of the Day: Great Green Macaw. Reportedly heard only.

La Selva Biological Research Station LS

Probably the ornithological highlight of our trip to Costa Rica, La Selva is a justifiably renowned OTS (Organisation for Tropical Studies) research station. We stayed on site in comfortable hostel style accommodation. Full board at the station canteen was included and the meals were hearty and wholesome (although don't be late!) A network of paved trails give easy access to the extensive rainforest on the station, but the best birding appeared to be around the station buildings themselves and their associated clearings, in particular around the main office and canteen. Good access to the river and the lush grasslands along the entrance drive also added to the available habitats. There is no doubt that a week or so at La Selva would permit thorough exploration of the extensive network well-marked forest trails and would be time very well spent. It is worth noting that a significant number of our Costa Rican bird species were only seen at this wonderful site.

Bird highlights: Great Tinamou, Gray-headed Chachalaca, Crested Guan, Green Ibis, King Vulture, Semi-plumbeous Hawk, Blue Ground-Dove, White-crowned Parrot, Olive-throated Parakeet, Squirrel Cuckoo, Gray-rumped Swift, Blue-chested Hummingbird, Black-throated Trogon, Amazon Kingfisher, Pied Puffbird, Plain-brown Woodcreeper, Rufous Mourner, Rufous-tailed Jacamar, Keel-billed Toucan, Chestnut-mandibilled Toucan, Collared Aracari, Long-tailed Tyrant, Gray-capped Flycatcher, Yellow Tyrannulet, Rufous Motmot, Russet Antshrike, Bay Wren, Banded-backed Wren, Black-capped Pygmy-Tyrant, Olive-crowned Yellowthroat, Scarlet-rumped Cacique, Yellow-billed Cacique, Black-cowled Oriole, Great Antshrike, Red-throated Ant-Tanager, Black-faced Antthrush, Crimson-collared Tanager, Passerini's Tanager, Olive-backed Euphonia, Black-faced Grosbeak.

Monday 3rd April

One of the beach guards smells a turtle

We woke to the rejuvenating smell of freshness following the overnight storms. Mario's best intended pre-dawn start (with packed breakfast) and our pre-dawn readiness (with packed everything) conflicted with Mario's pre-pre-dawn partying. We left in a daze of pre-consciousness morning confusion. The reason for this early pantomime was the threat of roadblocks due to national strike action across the country following some governmental outrage or another. This cost us a morning at La Selva, although I did salvage a little time by sneaking down to the bridge at first light to see a whistling Black-faced Antthrush strutting like a crake between two thickets.

We had to spend the rest of the critical period of the day rattling down corrugated side roads between La Selva and the coast trying to avoid the strikers. Marianne declared that getting stuck in a roadblock would be the highlight of her trip and we wondered if she was already suffering birding burnout. We now endured two hours of shaking, rattling and rolling through small villages and vast banana plantations, while Mario and Sergio animatedly sought navigational advice from any local who chanced to cross our dust trail. Finally, we emerged from the fruit salad bowl at the small boat ramp come café of Muelle de Matina where, Rodrigo, host of the Pacuare Reserve, was already patiently waiting in a small boat to whisk us for half an hour up the continental canal. Then right, into a small lagoon, before beaching on a small sand bar next to the crashing Caribbean Ocean. We had arrived in paradise.

Paradise was the little community of Rodrigo and his wife, plus an American biologist Belinda and the families of several Costa Rican guards and rangers, all living in a few rustic huts hugging one corner of the little island reserve. Sandwiched between the Caribbean oceanic blues and the lush Pacuare Reserve jungle greens was a narrow strip of dusky volcanic sand, on which the waves pounded and sprayed. Hammocks slung between the palm trees, shoes discarded, time slowed gloriously down man yeah yeah.. pura vida. A lone Whimbrel strutted along the black sand and Brown Pelicans drifted leisurely offshore. It was sticky sticky sticky and it was time to do seriously nothing for a while. At least for a short while. It was precisely at this moment that I was finally brewed my first real Costa Rican coffee and I can tell you it was an eyeball blower. All fired up on caffeine and the craziness of early afternoon we took a short trail that paralleled the beach through a tunnel of jungle vegetation. The sweet smell of guava clawed the air and basilisk lizards scuttled into the thickets at our approach. The path cut left through some open forest (along the optimistically named Jaguar Trail) and ended at a still lagoon. We spent an hour by this tranquil oasis and although visibility was poor we saw a Boat-billed Heron perched low on an overhanging tree and several warblers in neck-straining positions above us in the middle storey. Eventually a troupe of White-faced Capuchins crashed over the trees and a pair of Purple-throated Fruitcrow flew in and went through their full repertoire of cackles and whistles.

Back at paradise we were whipped up a very un-Costa Rican, but quite delectable, plate of spagbog and I fuelled up with more of the black stuff for our evening beach patrol, with Belinda. You see, Pacuare is not really about birds at all, or coffee for that matter. It's about turtles. It was a windy balmy night and turtles were as good an excuse as any to go walk the beach by starlight. And stars aplenty there were, with the most notable presence of both the North Star and the Southern Cross at either end of the sky. Unfortunately the stars did outnumber the turtles by a good deal more than we had hoped and maybe even expected. The day was partially saved at the turning point of our 3km patrol by one of the beach guards who "smelled a turtle" and indeed we did see one big Leatherback drag herself ashore and start to dig, spraying me with sand from its spade like flippers. Now that's a turtle. Alas our return beach patrol also drew a complete blank and we stepped over giant Marine Toads on our way to the shower block in the belief that it had been a quiet night.

Which it was, until somewhere around 3am when, while Henry and I were in our deepest sleeps and all was still save for the crashing of the waves and the reedy piping of cicadas, an enormous mother Leatherback heaved to within ten metres of our beach-shack door, dug the mother-of-all sandpits, peppered the ensuing crater with a small mountain range of eggs, swept half of Pacuare Beach over them, yawned exhaustedly, farted a few times, and then hauled herself back to the water's edge and submitted to the embrace of the Caribbean, slipping silently into the sea as the first glimmers of dawn broke low in the sky, paddling deeper and deeper and deeper and deeper….. Which is around about when, of course, we woke up.

Bird of the Day: Purple-throated Fruitcrow. Wocka wocka wocka wocka

Mario's Controversial Bird of the Day: Chestnut-bellied Heron. Alas, the largest known breeding colony of these birds failed to materialise.

Tuesday 4th April

A most annoying rooster gets its comeuppance

Despite suffering a severe bout of turtle patrol lag, I was up at dawn and made a couple of short walks on the fringes of Pacuare Reserve. During the first I incurred the wrath of a small party of White-faced Capuchins who dispatched a sentinel to hurl branches at me while the others scampered off through the trees. On the other side of the lagoon we discovered the "Pacuare Jungle Discotheque" (just as rudimentary as I hope that you are imagining it… ). We had fine views of a male Olivaceous Trogon who flirted with us between bushes and examination of a small falcon in the scope revealed a Merlin, an apparently rare migrant in Costa Rica.

We were on the move again all too soon, motoring back to the boat ramp at Muelle de Matina for the 10.15 to Tortuguero. But where was it? Mario made increasingly heated calls on his mobile phone while we were tormented at the boat ramp by a screaming rooster. George put us out of our misery by flicking some small pebbles in its general direction, a process that was moderately effective, but failed to endear him to the Boat Ramp Madame who became very reluctant to take our custom while we waited on the jetty. However, the sudden arrival of a cigarette deliveryman seemed to cheer her up considerably and she finally relented to produce some cassava chips and a few cans of soda. Eventually the boat appeared and made up for lost time by accelerating down the canal at a warp rate that threatened to suck my cheeks inside my skull. We literally flew down the continental canal while barely touching the water surface, and Northern Jacanas , egrets and herons appeared to spin by us at impressive speed. This was twitching at its most supremely time-efficient. It was like watching a David Attenborough by pressing view and fast-forward simultaneously, an effect which was twice as impressive through binoculars. Pura pura vida! As we sped into Tortuguero National Park the canal suddenly narrowed, the juice reduced, and tall gallery rainforest closed in on either side of the boat. A Bare-throated Tiger-Heron draped its wings from a dead log and a Neotropical Otter rolled lazily on a log. A basilisk sprinted across the width of the channel, flicking its feet rapidly to avoid breaking surface tension. We had arrived, and Tortuguero was magnificent.

We docked at La Laguna Lodge, on the edge of Tortuguero village for a late lunch. The wide channel by the village was marked by the rooftops of a series of tourist lodges and we realised that this would be a stay of considerable contrast to Pacuare. At La Laguna the smooth talking swarthy assistant manager greeted us with fruit cocktails and guided us into an enormous open plan dining area, with a high thatched roof. Synthesised pop spilled out from the adjoining bar area as a Green-backed Heron picked out invertebrates in the intervening ditch. It was impressive and a bit depressive all in one. All very nice and overly well done, if you like that kind of thing. So we did that kind of thing, and had a fairly uneventful afternoon doing the Tortuguero village sites such as visiting the Turtle Museum and consuming a deeply average Costa Rican ice-cream, which failed to live up to Mario's passionate promotion. We returned to La Laguna via the wind-swept and bird-devoid beach before making full use of the luxuriant facilities by seeking out some ice-cold beer.

Bird of the Day: Bare-throated Tiger-heron. Big impressive bittern-like things that seemed highly visible at Tortuguero (unlike typical impressive bittern-like things).

Mario's Controversial Bird of the Day: Tricoloured Heron. Qualifies for notably becoming the first bird to appear on our evening list and not on Mario's.

Pacuare Reserve PA

Pacuare is a private reserve set aside mainly for the 6kms or so of beach that four species of sea turtle use for nesting over the year. During the nesting season Pacuare has a resident manager, marine biologist and employs several guards to protect the beach from poachers. Access is by boat only, There are several small huts for visitors, with shared shower and toilet facilities. Visitors are encouraged to assist on the nightly beach patrols. The small reserve has several marked walking trails. We all agreed that Pacuare's limited facilities actually made it our favourite overnight location and a welcome change from the comfortable commercialism of most of the other locations visited. For more details on Pacuare try contacting

fdezlaw@sol.racsa.co.cr

Bird highlights: Black-bellied Plover, Collared Plover, Royal Tern, Boat-billed Heron, Merlin, Pale-vented Pigeon, Blue-headed Parrot, Purple-throated Fruitcrow, Vaux's Swift, Black-cheeked Woodpecker, White-necked Puffbird, Violaceous Trogon, White-ringed Flycatcher, White-breasted Wood-Wren, Black-and-white Warbler, Prothonotary Warbler, Red-throated Ant-Tanager, Summer Tanager, Slaty Antshrike.

Wednesday 5th April

Martijn finds the perfect spot

We left the lodge at 6.15 to greet the dawn on an early boat tour of Tortuguero National Park. In the golden early light the boatman messed around in the main channel, nudging to within metres of a variety of herons, a pack of Mantled Howler Monkeys and a big Anhinga. An Osprey swept past the boat and plucked a fish from the canal. Easing out of the main channel we re-entered Tortuguero National Park and suddenly found ourselves drifting between awesome stands of massive trees with green galleries of lianas draping downwards from the sky. Crisp bird calls echoed eerily from the forest depths on either side of us. It was a breathtaking sight and a supremely beautiful moment. Despite the tantalising acoustics, we failed to see any birds save for another Bare-throated Tiger-Heron at the bank and a Slaty-tailed Trogon glimpsed up through a window in the canopy. Entering a narrow, twisty, weed-strewn channel, we had more luck as soon we were in the forest as the boat navigated fallen logs and rafts of floating weeds until we could navigate no further. A Spectacled Caiman floated motionless by the bank, two startled Limpkin jumped to safety, a Green-and-Rufous Kingfisher sped upstream and a Cinnamon Woodpecker swooped over the boat us the boatman spun us around on a 50 colones coin. He now revealed more than just maritime skills by spotting a tiny Sungrebe hiding beneath a maze of tangled roots by the bank, a black and white striped juvenile strapped on its back. We shunted back and forth by one particularly dingy piece of riverbank until Martijn finally saw the two Gray-necked Wood-Rails sheltering motionless amidst the undergrowth. A Black-and-White Hawk-Eagle circled high above us, a tiny white speck in the deep blue sky. Only the Chestnut-bellied Heron proved elusive, failing to appear at any of the boatman's stakeouts. This proved less surprising when we observed almost every other boatman trying the same places – Tortuguero had its moments of congestion.

It was with a degree of reluctance that we turned back for La Laguna for omelette and siesta. It was here that Martijn discovered the place to take siesta – next to the lodge pool – which I had abandoned to the enormous Marine Toads after trying to take a swim the previous evening. Under a thatched shelter we set up camp between the pool and a small grove of fruiting shrubs, upon which an incredibly frenetic avian swarm of tanagers, warblers, seedeaters and anis were feeding. La Laguna had redeemed itself as a birding site in its own right.

We abandoned dry land again at 3pm and this time drifted down a long straight tunnel of trees, taking a different side channel through the park. This was very tranquil, both ornithologically and otherwise, but close views of American Pygmy and Green and Rufous Kingfishers were enjoyed. We drifted silently in a small convoy of tourist boats, being moderately entertained by the antics of dangling Howler Monkeys and more than moderately entertained by the antics of the boat in front, where camera-dangling tourists were trying to film dangling Howler Monkeys from rather precarious positions. Tortuguero may not be the most productive park in Costa Rica for birds, but it is aesthetically wondrous, and one of the most voluptuous places I have ever been.

It was time to return to the man with the tan, his bar and guitar, and a cold and glorious jug of Imperial.

Bird of the Day: Sungrebe. A way cool bird.

Mario's Controversial Bird of the Day: Rufescent Tiger-Heron. Despite determined efforts to call this bird during the day, Mario did – to his great credit – acknowledge that it had not qualified for the bird list in the evening.

Tortuguero National Park TO

Tortuguero is an environment that is thoroughly worth seeing, if perhaps not the most essential birding stopover in Costa Rica. Most of the birds seen here, with a few notable exceptions, were also seen at other sites. We did see 5 of the 6 Neotropical kingfisher species in the park, and the Sungrebe was possibly worth the trip on its own. Access is either by boat or by plane and there are a host of accommodation options (arguably too many), most rather commercial, on the edge of the park. There are plenty willing boatmen to take visitors into the park, and almost no walking trails of any consequence. Boat is the way to explore Tortuguero. If I went again I think I would try to rent a canoe – that looked a superb option.

Bird highlights: Limpkin, Gray-necked Wood-Rail, Sungrebe, Olivaceous Cormorant, Snowy Egret, Ringed Kingfisher, Belted Kingfisher, Green and Rufous Kingfisher, Green Kingfisher, American Pygmy Kingfisher, Black-and-white Hawk-Eagle, Cinnamon Woodpecker, Collared Aracari, Purple-throated Fruitcrow, Stripe-breasted Wren, Squirrel Cuckoo, Black-headed Tody-Flycatcher, and of course all the usual "swamp junk" (Great Egret, Green-backed Heron, Little-Blue Heron, Tricoloured Heron, Northern Jacana etc.)

Thursday 6th April

Four dinosaurs take a siesta on our roof

Transit day. Up with the House Wrens and off to the majestic Tortuguero airstrip (another change of transport plans due to roadblock action). Check in was at a small table beneath a coconut palm. Heathrow eat your heart out. An amusing incident occurred when the plane landed and two burly Americans (sorry – United Statesers) disembarked to find their luggage had gone astray. Much ado resulted until it was established that they had in fact got out at the wrong palm tree and their luggage was still snugly stowed on board. Even more exciting was the aborted take-off at Barra del Colorado, but eventually we were safely up in the air and looking down on a mosaic of plantations as we returned to San José. The highlight of this short flight was flying over the billowing clouds above Braulio Carrillo, cloud forest from another perspective.

We touched down in San José amidst a giant cloud of migrating Barn Swallows and George diligently ticked off Eastern Meadowlark by the runway. We greeted wheel maestro Sergio like a long lost friend and were soon back on the road, dropping down off the plateau of the Valle Central onto the Pacific slope. It was soon no longer humidity that confronted us, but just sheer heat as the landscape dried up underneath a blazing sky. From emerald green to burnt out ochre, luscious leaf to swirling dust. Stopping for drinks, we found a Yellow-crowned Euphonia in a tiny birdcage in a convenience store next to the highway. Mario tried to buy it for release, but was frustrated - it was not for sale.

Our destination was La Pacifica Lodge, near Cañas, a dusty collection of white-washed bungalows adjacent to a small river. We were met by several of the characteristic fauna of Guanacaste: a babbler-like party of Rufous-naped Wrens scurrying in the undergrowth, the remarkably clownish White-throated Magpie-Jay and the Black Iguanas, or Ctenosaurs , that not only have a name that sounds like dinosaur but actually made the grounds resemble a micro Jurassic Park. Four Ctenosaurs had happily settled onto the roof of our bungalow and clearly had no immediate travel plans.

We were somewhat overfed at lunchtime and rather irritated the manageress by vanishing between courses to admire a pair of Black-headed Trogons, and then drinking her completely out of fresh mango juice. We met Lulu the Pacific Screech-Owl that lives in the shop at La Pacifica and duly took some crippling photos of her in her natural environment – perched on the swivel chair next to the office PC. In the afternoon heat we walked along the river, but frustratingly found very few birds in the riverine jungle.
One of the few we did see caused welcome controversy. Nobody saw the bird well, but we refused to accept Mario's suggestion of Lance-tailed Manakin, which would have been amazingly out of range, so the verdict leant towards a female Long-tailed, which doesn't have the tell-tale long appendage. The trail petered out at a huge rock, where we sat and watched a thousand tiny orange dragonflies dancing over the water. At dusk a Gray-necked Wood-Rail gave very obliging views by the edge of a small swamp near the swimming pool, in which I very satisfyingly saw out the last of the light, floating on my back and counting Large-tailed Grackles as they flew in to roost.
George jogged a few laps of La Pacifica before plunging athletically into the pool to swim 50 lengths and then proclaiming himself too dead-beat to face the five course dinner at the restaurant. Neither could we to be honest, but it was very much against the national genes to turn down a dinner you have already paid for and so we ate a token few courses, just for Scotland. We turned in after a very disappointing night walk that didn't even succeed in locating Lulu, and then returned to our homely cottage to find a 15cm cricket in the wastebasket, a choir of domestic geckoes in full chirp and a scorpion next to the toilet.
Bird of the Day: Crested Caracara. A surprise choice maybe, but the leggy scavenger has been a bird I've wanted to see ever since I first glanced at a North American Field Guide.
Mario's Controversial Bird of the Day: It would have to be a joint award to the Yellow-crowned Euphonia and Lulu, both of whom were amusingly counted on the bird list despite their apparently strong claims of captive status!
George's Bird of the Day: A well spotted Passer domesticus at the airport.
Friday 7th April
It's a long way to Monteverde …(and Palo Verde for that matter)
It certainly is. To both. But worth it. We thought it might take about an hour to get to Palo Verde National Park from La Pacifica, but it turned into several, on a dry, dusty, corrugated road. The landscape, however, was wonderfully new. Straw-coloured grasslands, scattered trees, scrubby pasture, and a lot of open country birds. We tested Sergio's patience all the way by calling a halt every time he seemed to get any speed up. In the sparse surroundings it was easy to find dry country birds such as ground doves, Yellow-naped Parrots, Stripe-headed Sparrows and White-lored Gnatchatchers. Also in evidence were plenty birds of prey, with several Laughing Falcons, Roadside Hawks and glimpse of a Gray Hawk drifting over the trees. The landscape occasionally greened up where irrigation served paddyfields, and egrets became abundant, as well as flocks of Scissor-tailed Flycatchers.
We finally shook, rattled and rolled past the entrance station to Palo Verde National Park and were immediately in a world of washed out blues and greys, with dusty and stunted deciduous oak forest on either side of the road. We passed several cowboys on the road and a coral of frisky steers. Clint Eastwood would have comfortably felt at home. At last the forest cleared and we arrived at the edge of an enormous swamp, extending far beyond the near horizon in a shimmering heat haze. Most of the swamps had dried out under the extremes of the season, but several ponds close to the road still held some shallow uninviting looking water. The birdlife was spectacular. A vast flock of Black-bellied Whistling-Ducks stood panting in the heat, while restless groups of Roseate Spoonbills foraged in the shallows. Above the reeds a steady procession of Great Blue Herons, White and Glossy Ibises, Wood Storks and egrets would occasionally rise into the air, some just briefly shifting spot, while others climbed and circled, higher and higher towards the midday sun.
After a good gawk through the scopes we shifted to the road end, where a broad mangrove lined river swept round in a tight bend, and an enormous American Crocodile lurked by the bank. The river was very low and the nearby swamps ashy dry, making it easy to walk by the banks and explore the brittle riverine landscape. Only brief calls gave away life at this inhospitable hour. First a melancholic broken piping delightfully revealed a tiny Ferruginous Pygmy-Owl crying from a stunted tree. Much effort was spent tracing the origin of a strange "blow-in-a-bottle" call, which turned out to be an unusually cryptic White-tipped Dove hiding in the understorey. We had an excellent lunchtime feed at the OTS Research Station, in a room with a memorable view over the swamps to the distant hills, a shimmer of ochre, chestnut and gold.
The long drive back to the highway was notably broken by a short stop to goggle at a Double-striped Thick-Knee that carelessly had chosen to stand under the shade of a remote tree in a dried out paddock (had it been sitting down we would have never seen it). All this flat expansive aridity was left behind as we crossed the highway and began to climb high into the Cordillera de Tilarán. We were now on the ascent to Monteverde, by a back road, and like all the roads to Monteverde, not a short one. Twisting and turning we pushed into cooler and greener pastures as we pushed towards the clouds and the temperature noticeably chilled. Up and down and round and round and up and down. But mainly up not down. We crossed steep ridges and passed through small mountain villages, edged around steep hillsides of coffee, and traversed narrow creeks. From sea level we were now 1500m high, and the views were impressive. From the drylands of Guanacaste we were now in cloud forest once again, and arrived at Cloud Forest Lodge, a few kilometres above Monteverde village, just after dark. Another day another magnificent dinner.
Bird of the Day: Double-striped Thick-Knee. Thick-knees, thick-knees, you can never get enough of them in my opinion. Is it their unconventionality or their inherent bizarreness? Whatever it is, a new species of thick-knee will always be bird of the day.
Mario's Controversial Bird of the Day: Undoubtedly Ruddy Ground-Dove. While accepting that we did see ground-doves that were very ruddy in colour, this does represent a sudden and rather too dramatic range extension for this species, seemingly creeping up the Pacific coast. Look out Nicaragua – the Ruddy-Ground Doves are coming…
George's Bird of the Day: George was thrilled to bits by seeing Red-winged Blackbirds in the paddyfields. The things you miss when you are so far from home…
Palo Verde National Park PV
Palo Verde must be an astonishing place at all times and seasons of the year. We really made all but a snatch-and-grab raid on the park and I would have loved to devote a further day or two here. The OTS Station looked a good base for such a stay, and the catering worth it on its own. It would have been tough camping in this season, but there were a few sites marked. As well as the swamps themselves, some exploration of the dry deciduous forests would have been of interest. It is rather out of the way for those on a short trip to Costa Rica but really is an excellent birding region, and was one of my favourite days from the point of view of birds seen. Palo Verde must be a grand place with a bit more water.
Bird highlights: Wood Stork, Limpkin, Roseate Spoonbill, Black-bellied Whistling-Duck, Blue-winged Teal, White Ibis, Glossy Ibis, Double-striped Thick-Knee, Laughing Falcon, Gray Hawk, Common Ground-Dove, Inca Dove, White-winged Dove, White-fronted Parrot, Yellow-naped Parrot, Cinnamon Hummingbird, Ferruginous Pygmy-Owl, Hoffman's Woodpecker, Turquoise-browed Motmot, Scissor-tailed Flycatcher, Scarlet Tanager, Blue Grosbeak, White-lored Gnatcatcher, Stripe-headed Sparrow.
Saturday 8th April
Mario and Sergio get lucky
The wind howled all night long, but dawn brought a slight calming of the atmosphere and up on the ridge below Santa Elena Reserve, in the cool of the early morning sunshine, we experienced a moment of serene inner calm as a Three-wattled Bellbird 's resonating grongk carried across the valley and the metallic oil-deprived gates of several Black-faced Solitaires harmoniously squeaked from the lush shrubbery. The entrance station to the school-owned Santa Elena Reserve was also a hive of activity, with a Black Guan thrashing in the foliage, but birds were a lot harder to find in the cloud forest proper. Nonetheless the elfin woodland of Santa Elena was a very pleasant place to stroll. Damp, green and mossy, epiphyte laden, wind buffeting the treetops. A Three-striped Warbler hopped along the track ahead of us, gathering nesting material, Gray-breasted Wood-Wrens poured their rippling call frustratingly forth from the depths of the undergrowth, a Ruddy Tree-runner danced along the branches high above us. We paced the trail for a few hours, enchanted by the forest, but less enchanted by the lack of quetzals. Abandoning the hunt, the shop at the entrance station had the best range of genuine wood carvings we had come across thus far, and the hummingbird feeder at the café just down the road was hosting several of the most mighty and awesome hummers in these parts, the robust Violet Sabrewing.
We picked up Marianne at the aerial tram. She had decided the night before that birding was not sufficiently life-threatening to merit the early outing to Santa Elena and had adopted the role of flying granny on a ride over the rainforest canopy with a group of schoolchildren. She had also been treated to flyovers from Swallow-tailed Kites, which were gracefully swirling above the cables of the "tram" (surely one of the most elegant raptors in the World). Mario treated us to lunch at his favourite restaurant in Monteverde village. The smoothies were excellent, the vegetarian pizza quite wholesome, but it seemed to have been the owner's wife that perhaps had proved the decisive factor in his choice. For a man claiming to have a dickey stomach, Mario wolfed back half a chicken while continuously engaging in what could only could be described as blatant flirting. We retired to Cloud Forest Lodge for a short siesta, although George and I were much too restless and walked the deliciously named Avocado Trail behind the lodge.
Mid-afternoon we had an appointment at Monteverde Reserve. This proved a prudent time to visit the popular reserve, as traffic was largely pouring out of the gate when we went in. We hiked a broad vehicular trail which offered very good birding, although George had palpitations due to a particularly ignorant sounding gringo tourist who staggered past us with a huge video camera and asked if we knew what the enormous green bird with a gigantic tail that he had just been filming from the footbridge might have been. This forced a step up in pace, and after a kilometre or so we reached a magnificent pedestrian suspension bridge, yawning across a 100m ravine. This was a true cloud forest experience as the mist had begun to swirl down from the hills and was clothing the air all around us. We did see quetzals this time, but alas for most it was but a fleeting glimpse as two shot overhead on our approach, and only later offered distant mist shrouded views from the bridge. Marianne and I had the benefit of a crippling 5 second view as one paused in a tree above us before slipping off. Now that's a bird. It really is…
They were locking up the gates when we returned to the car park, and Mario was expecting a life ban from the rangers for delaying their journey home. However it turned out that his urgency was probably more to do with an appointment that he had made with his doctor (female) to seek a cure for an upset stomach. Indeed he managed only one course at dinner before rushing out with Sergio to meet his appointment . The doctor's waiting room was clearly a place of great congestion, for our next view of Mario was of a rosy eyed tour guide lurching up to the Lodge at 6.30 the next morning, evidently lacking sleep, and possibly having been withheld overnight in intensive care.
Bird of the Day: Three-wattled Bellbird. It looks great and it sounds awesome. A strident resounding primeval chime. The call of the Cloud Forest.
Mario's Controversial Bird of the Day: Surely the enormous chicken that he polished off at lunchtime while informing us that he was suffering from the grizzly consequences of food poisoning.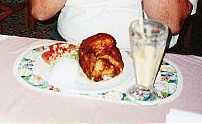 George's Bird of the Day: The much hyped and eagerly anticipated Yellow-faced Grassquit was finally captured by George's binoculars on the road to Santa Elena: a start to a magnificent birding day that he will surely struggle to match for the rest of his ornithological career.
Santa Elena / Monteverde Reserves MV
Both reserves are in close proximity and both contain good cloud forest habitat. Our experience was that both were well worth visiting, although surprisingly we found Santa Elena to be almost as busy as Montverde (perhaps an illusion due to the narrower and more limited track system). Monteverde has an annoying access booking system but by picking time and straying far it is however easy to lose the crowds in both. Monteverde's trail system is extensive and looks worthy of several days' investment alone. General roadside birding throughout this region would be productive. The area is deservedly famous, there seems to be no shortage of accommodation options and it's well worth hacking up these dreadful roads to get there.
Bird highlights: Three-wattled Bellbird, Black Guan, Swallow-tailed Kite, Green Hermit, Violet Sabrewing, Magenta-throated Woodstar, Coppery-headed Emerald, Red-billed Pigeon, Emerald Toucanet, Resplendant Quetzal, Blue-crowned Motmot, Spotted Barbtail, Olive-sided Flycatcher, Olive-striped Flycatcher, Brown Jay, Black-faced Solitaire, White-throated Robin, Gray-breasted Wood-wren, Mountain Robin, Azure-hooded Jay, Slate-throated Redstart, Sooty-capped Bush-tanager, Spangle-cheeked Tanager, Silver-throated Tanager, Yellow-throated Brush-finch, Black-throated Green-Warbler, Three-striped Warbler, Golden-crowned Warbler, Prairie Warbler, Chestnut-capped Brush-Finch, White-eared Ground-Sparrow.
Sunday 9th April
The great of wallet get some unusual visitors
Our last morning in the cloud forest was more by the climatic book. Driving rain and a howling wind raged all night and this time the dawn brought no respite. We were at least able to take a short walk into the woods behind the lodge and find a saturated quetzal, dripping on a branch. We also had distant views of calling Three-wattled Bellbirds, and heard but failed to find a Prong-billed Barbet which teased us from somewhere up above our heads. Considerable trouble was had reviving Mario and Sergio after their post-breakfast nap - their recent medical treatment had clearly proved exhausting. At least the late start allowed us to twitch a Prairie Warbler (rare migrant) while our luggage sheltered from the deluge underneath the porch of the lodge. With Sergio once more in control of the minibus wheel, we were soon on the descent from the mountains, after a brief stop at the surgery to pay yesterdays lunch bill. The road down was every bit as tortuous as the road up from Palo Verde, with blind switchback after blind switchback, clouds of dust, and enormous potholes amongst the hazards. Sergio crept carefully around the hairpins, squeezing tentatively past the occasional service bus, we enjoyed stunning views of the Pacific Coastline, and Mario dozed fitfully in the passenger seat. By midday we were back in the steam of the Pacific lowlands.
At 1pm we checked in to the rather disturbing opulence of the Punta Leona resort complex. I couldn't quite get my head around this place: a sort of cross between an enormous holiday camp and a residential village for the great of wallet. The extensive infrastructure, which hugged the Pacific coast to the south of Tárcoles, was set in an enormous patch of lowland rainforest which took a good 5kms of winding bamboo-lined entrance road and two security barriers to negotiate from the highway. It was all awfully civilised although I will confess to being extremely grateful for the air-conditioned sanctuary of our small chalet, after the two days in the cool air of the highlands. Still, I wasn't complaining too much about the Fiery-billed Aracaris on the way to lunch.
Our afternoon pilgrimage was a short one to the Río Tárcoles Bridge, which carries the main coastal highway across the broad Río Tárcoles just as the river flows into a small mangrove forest on its route to sea. This bridge has become a highly popular roadside halt for those who wish to lean over the parapets and drop steak sandwiches into the gaping jaws of the resident squadron of starving American Crocodiles. This in turn has attracted several more sinister predators to the Río Tárcoles Bridge, who wish to lean just behind the parapets and drop their hands into the gaping pockets of the otherwise engaged. As a result of previous incidents the bridge actually had a resident security patrol and we were warned to be on our best behaviour. Of course we hadn't come either to feed the crocs or slash any pockets, we had come with the much higher and nobler purpose of watching the late afternoon return flights of pairs of Scarlet Macaws, as they fly back from the nearby Carara Reserve to roost in the Tárcoles mangroves. We saw our first distant macaws as soon as we stepped from the bus. In the short gaps between fly-pasts we were easily kept entertained by the 13 crocodiles drifting underneath the bridge and the assorted carnival of onlookers, by herons tentatively stalking the banks, and by the struggle to identify clouds of swifts swirling overhead. Meanwhile trucks hurtled over the bridge at frightening speed, blaring their horns and scattering the crowds. It was not the most sensuous location of the trip. As the afternoon progressed, the macaw flights became more regular until a total of 50 pairs of these huge birds purposefully made their way high over the bridge to seek their evening shelter. As soon as bridge security packed in for the day, our exhausted personal security officers became more nervous and bundled us back into the van to take us back to Punta Leona. A last ornithological treat was a gorgeous Muscovy Duck sitting in a stream on the Punta Leona drive, a suitable conclusion to an interesting birding afternoon. It was not, however, the last of the excitement.
George proposed a romantic evening stroll along the beach and we were dropped a suitably short distance along the shore to hike back to our estate. Unfortunately tide waits for no man, or woman, and as suddenly as the light vanished, the sea appeared, and to cut a long story very short, we all got our feet very wet and George and Marianne got their everythings very wet. We must have made a splendid sight walking past the beautiful people by the pool clutching boots and socks in hand… But by the evening we looked like all the rest of them (well, at least it might have taken a good ten seconds to pick us out), relaxing with a cold beer, huge platter near at hand, waiters dancing round the table, palm trees swinging and candles flicking in the light Pacific breeze. P.V.
Bird of the Day: Scarlet Macaw. They are big, they are bright, they are noisy, and while perhaps I'll concede only that they don't make the adrenaline flow quite as strongly as a crocodile, I still can't quite work out why everyone else looks down from the Río Tárcoles bridge…
Mario's Controversial Bird of the Day: We never did catch her name.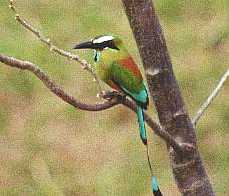 Turquise-browed Motmot at Tárcoles Bridge
Monday 10th April
The man who lived next to an owl
In fact I was clearly such a man, at least for the night, as at first light mixed success was had in pursuing a number of "owls" that were calling just outside our cabin. The first one was a Ferruginous Pygmy-Owl that evidently lived in the neighbour's tree. The second family of "owls" proved rather more elusive to precisely locate in the trees along the creek and only after my sixth fleeting view of a Blue-crowned Motmot did I twig that perhaps these "owls" where not owls at all. So that's why they are called "Mot-mot"s (and not because they wiggle their tail in a "mot-mot" like way as someone had informed us.. whatever that might mean anyway!)
And so unto Carara we did go, leaving brave Sergio to guard the bus from potential marauders at the entrance to the legendary Vigilancia Trail. Legendary with reason. This was easily the best birding trail of the trip. A wide track carved through a superb range of habitats, from primary forest to second growth jungle, dense bamboo to open clearings, and ending up at a sheltered lagoon. The birds came thick and fast. Scarlet Macaws were quite common, in gaudy card designers' poses as they sprayed their tails on landing in the trees high above our heads. A pair of Royal Flycatchers nesting near the track by a small pool, the male refusing obstinately to erect his outlandish crest on our behalf. Hummingbirds by the dozen, feeding high in the bromeliads, and one Purple-crowned Fairy dancing between aerial blossoms like a butterfly. Nesting Rose-throated Becards seen well through George's scope and Orange-collared Manakins zipping across the path, blink carelessly and miss them. Just terrific. Five hours passed all too quickly and by 10.00 we had done all of a few kilometres – possibly an average speed behind that of Central London traffic. We turned around at the lagoon where Boat-billed Herons attended some fluffy chicks, and on the return leg encountered several large tour groups proudly sporting coloured name badges (how embarrassing!) starting down the trail. As one large party filed past us a sharp cry of "snake" was heard from the front. I had the benefit of being behind the majority of the group and enjoyed the sight of half the party (the "curious") rushing forwards towards the front, and the other half (the "nervous") spinning around and fleeing back behind me in desperate retreat. It's a real jungle out there, as George often liked to remind us. It had clearly paid to get there early. Carara had a lot more to offer us, but time was time, and patient Sergio had the welcome supply of cold drinks.
Re-energised from a slow lunch we investigated a few different habitats in the afternoon – at least one more than anticipated. The first port of call turned out to be the backyard of a small cottage on the edge of the Río Tárcoles mangroves. The occupier was far from pleased with the idea of six birders taking an extended house and garden tour and dispatched us on our way (and quite right too!) We were thus forced to take the long way around to the Río Tárcoles mouth, which wasn't such a bad thing after all as we were able to have a quick (but unproductive) look into the back of mangroves and chase some finches in the fields. The Río Tárcoles spills out into a large bay with distant mudflats where Long-billed Curlews and Laughing Gulls and all that sort of stuff could be seen. I guess it is ornithologically negligent not to check these places out. The owner of a small shack by the beach watched us with a healthy bemusement – I guess he'd seen all this before. He did however politely point out that the palm in front of his abode was actually home to a small Pacific Screech-Owl, the kind of valuable information that no amount of expensive optical equipment can obtain for you, especially when you have parked your van right underneath the bird in question. We thought that maybe this shared meme might be the commencement of a mutual bonding session and offered him an iris to iris look at Mr Owl through George's scope, but he declined and went indoors to attend to more important things. You can always, after all, get far too much of a good thing.
And so, after one week plus of intensive fun, it was time to farewell Marianne and Martijn, who were retiring to Punta Leona for a few days of serious recovery before heading back to the West Coast. Farewell to faithful Sergio, the man with the van and the big smile. Farewell to Mario, our larger than life, enthusiastic , imaginative , naturalist companion, without whom life was about to become significantly poorer. As Mario liked to say: "Everybody sees their own bird". And farewell to George, the man with the plan, over one last cold beer back at the Don Carlos (the payment for which proved to be so enormously complicated that I will not begin to try to explain it here). We would miss George so much that we promised to think of him every time we saw a new bird on the Osa Peninsula. I could tell that somewhere deep down he almost appreciated the gesture.
Bird of the Day: Royal Flycatcher. Get your crest out, get your crest out for the boys…..
Mario's Controversial Bird of the Day: Pacific Screech-Owl. Much harder to identify than Lulu because it wasn't perched amongst the cuddly toucans and crapping on the t-shirts.
Carara Reserve CA
This is an easily accessed reserve and is really outstanding. We got there early and indeed this did prove wise as a stream of visitors trickled in from 9.00 or so. The Vigilancia Trail is easily one of the best bird walks I have ever done. The intensity of species you can expect to see is enhanced by the fact that the north and south Pacific birds overlap here, but is also partly due to the open trail and the sheer quality of habitat. A must do, but be careful about leaving an unmanned vehicle at the trail entrance – this is a crime hotspot apparently.
Bird highlights: Broad-winged Hawk, Mourning Dove, Scarlet Macaw, White-necked Jacobin, Purple-crowned Fairy, Baird's Trogon, Violaceous Trogon, Streak-headed Woodcreeper, Barred Antshrike, Black-Hooded Antshrike, Dusky Antbird, Chestnut-backed Antbird, Orange-collared Manakin, Rose-throated Becard, Great-crested Flycatcher, Piratic Flycatcher, Royal Flycatcher, Buff-throated Saltator, Mistletoe Tyrannulet, Yellow-throated Euphonia, Cherrie's Tanager, White-shouldered Tanager.
Tuesday 11th April
A wild journey to the stickiest place in the world
Our first day on our own in Costa Rica. No guide, no bodyguard, no friends, no telescope. Completely naked. Roberto Miranda gave us a lift to the airport for our flight to Palmar Sur, wherever that might be. Roberto was a co-owner of Marenco Lodge on the Osa Peninsula, our last destination. My impression was that Roberto lived a sort of playboy lifestyle, and he told us that he was taking on the glamour job of providing a taxi service to the airport in order to practise his English in between urgent sporting appointments. He was great man with a great lifestyle and my life plans have not quite been the same since meeting him. We left Roberto approximately half of our luggage on discovering that the 10kg luggage restrictions were being rigorously enforced, and no doubt he had lots of fun padding around in our rubber boots for the few days we were away.
It was a tiny airport and a tiny plane. The pilot spent a bit of time arranging the four passengers in a suitably weight-balanced way before lifting up over the Cordillera de Talamanca for the ride south. The views were great but I was more than happy to see the palms of Palmar Sur waving happily below us one hour later. I was less ecstatic about the greeting by a crowd of grabbing schoolboys who fought and wrestled for our bags on landing. Begging schoolboys are one thing, but who was the dude with the folded arms who stood under the shade of the tree chain-smoking cigarettes that they all seemed to have to run to? And whatever happened to school anyway? Grouse grump grump grouse! We were met by Pilar from Marenco, who looked a little churlish. In fairness she looked a little like I would do if I was processing my one thousandth tourist of the season at the Palmar Sur airfield. But aren't we all individual and so special? She also failed to ingratiate herself by immediately harping on about her tip before we'd even got there. The next leg of the journey was by an ancient bus that clattered down a truly awful road for forty minutes, gearbox roaring and windows shaking to their frames. This dropped us at the end of a small suspension bridge, whose days of suspending were clearly running out. Creeping carefully over we jumped from a wooden boat ramp into a small powerboat, which puttered into a narrow channel and then roared off towards the sea, scattering Green Herons and Jacanas in its wake. The channel soon became a river of some significance and the lily pads and reeds gave way to enormous mangrove forests on both banks. After three-quarters of an hour of arching left then right around the ever-widening river bends, the horizon yawned open and a significant bar of water stretched across our path. La Pacifica. Our boatman now had to perform an awesome manoeuvre to negotiate this formidable gateway to the sea, but he'd done it all before. He steered us over slurping waves, watching keenly for a suitably long tidal gap in order to zip around the back of one wave and accelerate across the oceanic bar before the next wave broke across our starboard side and flipped us in the air. Pura vida! From here it was short hop across Drake Bay to the Marenco beach. We'd made it in one piece. But we'd forgotten the Milk Tray…
We jumped ashore and hosed our feet of sand before commencing an energy-sapping climb up the short drive to the Marenoc village, a line of small wooden roofs poking out of the jungle at the top of a steep cliff. Marenco served us up with lunch and then we retired to our very excellent wooden cabin looking out over some dense scrub. Best of all, the veranda was equipped with two superb wooden rocking chairs, both of which I immediately wanted to take home with me (and ironically the guy in the check-in queue ahead of me at San José airport with the infeasibly large box was doing precisely that). Marenco was intensely humid, in fact a good deal even more humid than that. I'd go as far as to claim that Marenco just might be the stickiest place in the world. We opted out for a few hours but soon could not resist the urge to test out Marenco's trail system. Plodding steadily up the ridge of La Fila Trail I could barely believe the thickness of the air. The soil was deep red clinging clay and bright orange forest crabs scuttled in the leaf litter. The calls were very different to Carara and it was instantly clear that we were in yet another new avifaunic zone. A troop of White-faced Capuchins crashed through the upper canopy, way above our heads, followed closely by a Barred Forest-Falcon and White Hawk on the lookout for displaced dinners. Some Dot-winged Antwrens danced in the undergrowth chased by a striking Riverside Wren. At dusk a mysterious woodcreeper called repeatedly from a high branch behind our hut (the mystery later resolved by discovering the recently split Cocoa Woodcreeper was not a separate species in the field guide) and Magnificent Frigatebirds soared along the coast to their nearby island roost. With the last light fading in the sky the stretching arms of the cecropias in front of our balcony slowly filled with the distinctive silhouettes of Black Vultures gathering to roost. The Marenco style was ultra casual. The few guests mingled by the bar and we dodged jumping tree-frogs while sinking a most welcome beer before dinner on the balcony. Ahh Marenco.
Bird of the Day: Thrushlike Manakin. A bizarre dumpy brown bird that I succeeded in whistling onto the end of my boot.
Wednesday 12th April
Pilar develops a bit of a twitch
The tropical dawn broke with usual punctuality and spectacular brevity at 06.25. One moment dark, one moment light. Our resident House Wren sang his guts out. The first bird we picked out in the darkness of the forest edge proved easy to identify, not just for its piercing whistle but also for its striking orange throat – a Black-cheeked Ant-tanager, essentially an Osa endemic, so a good prelude to the morning gallo pinto.
I was more than a little apprehensive about spending our morning with churlish Pilar, whose knowledge of the trails was useful but whose desperate lack of enthusiasm looked certain to dampen the proceedings. The worries proved unfounded. Once on the jungle paths she was a girl transformed, creeping down the path in silence, bird eyes burning with excitement. I was stunned – she clearly relished the chance to avoid the normal beach walk duties and go hunting down some birds with people who actually gave a capuchin. She even went as far as dropping the entire subject of her tip, a subject we had grown rather more than very tired of. The interior of the Marenco forest was cooler than the beach and rang with calls. We followed a series of narrow, twisting, but well-kept trails, Rainforest, Bejuco, Giant Forest, Public. We (or more likely Pilar) were wolf-whistled at by several Rufous Pihas before finding a flock of Brown-hooded Parrots feeding deep inside the forest, a twitch for Pilar. At last we chanced on another mixed feeding flock (seemingly elusive beasts during our Costa Rican visit) and we bush-whacked in, chasing the flock as it moved through the middle canopy. Birds everywhere. Pilar twitched again with Rufous-winged Woodpecker and I reckon we probably twitched the entire flock! The trail was continuously crossed by lines of Leafcutter Ants carrying not just leaves, but often surreally transporting yellow petals to feed their fungus gardens. Clearly romance is not entirely dead in Leafcutter World. We paid homage to the Marenco "Giant Tree", a forest big guy who whose age varied from 100 to 600 years depending on which Marenco guide we chose to ask. We crawled through the underjungle to watch some tiny Bronzy Hermits, squeaking on little perches just inches from the forest floor.
And if all that was not quite enough, we twisted down a narrow track carved into the deep gully of the Río Claro to a secluded waterfall where we plunged into the cool pool from the top of a fallen log. To be strictly accurate Henry was not part of the "we", opting rather for a dry perch from which to take the incriminating bathing pictures. On the return leg I spotted a pair of White-whiskered Puffbird s sitting quietly by a bend in the trail. This was twitch number three for Pilar and it was at this time that she rather lost control of her emotions and rashly declared her "love" for me, a trifle premature for someone she had only just had her first bath with. Romance aside it had been an energy sapping "morning" walk, and late lunch was just about the best way of capping a surprisingly superb walk in the woods.
We opted for an afternoon of sitting on the veranda of a neighbouring hut exercising the wooden rocking chairs. Our move was motivated by the discovery that while we might have had a nice view from ours, the huts round the corner had just awesome vistas over the sea, and more importantly had oceanic breezes blowing in from same. I know the hut I want next time! In late afternoon I left Henry in his chair and ventured once again down into the forest to stand, perspiration pouring, at the banks of a little jungle rivulet. A White-faced Capuchin bathed in a hollow in a tree fork high above me. First it washed each limb and then dipped forward and stuck its head straight in. Agoutis cautiously stepped froward for a drink and a small mixed flock of birds flicked through the canopy, including a striking male Red-capped Manakin, sporting the colours of Belgium in black body, bright red head and yellow thighs. Speaking of drinking, and Belgium, a certain amount of word association plus the fast fading light called me to the bar.
Bird of the Day: Black-cheeked Ant-Tanager. The Osa bird.
Pilar's Birds of the Day: White-whiskered Puffbird, Brown-hooded Parrot, Rufous-winged Woodpecker. She loves me, she loves me not.

An anole hangs loose in Marenco Reserve
Thursday 13th April
The Temptress gets there first
Storms raged overnight and continued into the morning before settling down to a misty murk. The vultures tucked their heads well in and sat it out. I wondered whether we should not just do the same (not for long!) The change brought grey but cooler skies. The love affair with Pilar had clearly been a one morning stand as she was dispatched to airstrip duties and Gustavo was our guide for a 20 minute trip down the coast to Corcovado National Park. On this outing Henry and I were accompanied by a bemused retired American called George who had thought his travel agent had just booked him on a last minute package tour. Instead he was on his own in a small launch pounding down the Coast Rican coast and looking all the better for it. He was surprisingly game for a man who clearly didn't quite know what had hit him and he survived the day with bells on.
Flying fish scudded ahead of our boat as we skipped down the coast from Marenco, passing a White Hawk glowing in the distant canopy like a beacon and an islet of gawking Magnificent Frigatebirds bleaching the rocks with guano. Corcovado is one of the most difficult parks in the country to access, a piece of real wilderness, a place remote from the trappings of modern living, free of cars, free of crowds… Or so you might think. To our slight dismay, offshore from the main entrance station a rusting hulk of a cruise liner with the faded writing Temptress pulled hard at its anchor while small flotillas of rubber dinghies ominously headed for the shore. Gustavo wisely had a radical change of plan and opted for a slightly less fashionable route into the forest, in order to avoid rush hour. Although this did indeed stem traffic flow, a far more effective technique was simply to walk our normal birding pace and let the madding crowds stream past us at their leisure. We soon had Corcovado to ourselves as the abundant foliage dripped heavily from the morning rain. Birds were once again a bit thin on the ground, and in the trees, but after an hour in the huge forest we chanced on a noisy mixed feeding flock consisting of classic feeding flock species such as woodcreepers, tanagers, xenops and manakins. One tour group marched past us, faces clouded with disappointed, a burst of Spanish and they were gone. What had the guide asked us? Gustavo told us they had "seen no mammals - only birds". Too bad. We saw three monkey species in the next half hour. A troupe of Spider Monkeys crashed high across the track and many agoutis rustled in the brush. We climbed down into a narrow valley and Gustavo found another great swimming hole where I lay back and massaged my back against a small waterfall while gazing upwards and watching a little hummingbird hovering high above me like a bee. Another tour group stumbled by and we decided that the remotest park in Costa Rica distinctly lacked remoteness on this Thursday afternoon. Back to park HQ where Gustavo whipped up a fine salad spread and a family of Coatis entertained us by boldly raiding the cashew tree by the office. Coatis have a special way of taking their lunch, standing on their hind legs and leaning way back to gulp down the cashew fruits. I guess my own techniques are not a lot more sophisticated…
Back at Marenco an enormous mixed species flock (mainly tanagers) was swarming in the trees at the top of the track to the beach. You would think that after my lessons in the car parks and campgrounds of the world that often staying "home" is the best way of seeing birds. There were only three guests at Marenco on our last night. It was hard to imagine, as we sat dining underneath the stars, staring into the blackness and listening to a Pauraque bubbling in the orchard, what exactly this place would be like with the eighty guests expected the following weekend. It was our last Neotropical night and we tried not to wonder too hard where exactly we would be that same weekend. The air tightened. The breeze sharpened. The vultures stirred in the trees. One million little rustles emanated from the darkness of the rainforest. Storms plotted out to sea.
Bird of the Day: Bay-headed Tanager. There's no going home until you've seen at least one species from the front cover of the field guide.
Osa Peninsula MA / CO

This corner of Costa Rica is certainly not easy to get to without a little bit of extra time and cash to spare, but it was a most worthwhile investment. There are numerous packages on offer ex-San José. Marenco proved a very professional set-up, whilst being simultaneously casual and relaxed. The Marenco Reserve trails were superb and as good as anything we encountered in Corcovado National Park, just down the coast. Marenco pushed its formal tours a little bit too hard, but we found them ultimately flexible and generally happy to let us do our thing, although this may have been assisted by the fact that business was quite quiet at the tail end of the season. The birds were very similar in both Marenco and Corcovado. If going again, I would ask to stay in one of the huts that overlooks the valley, although there is a danger that I would never leave the wooden rocker on the balcony. Marenco and most of the other Osa lodges have web presence and current details can easily be searched for there (or try

info@marencolodge.com ).

Bird highlights: Great Tinamou, Brown Booby, Wandering Tattler, Gray-headed Kite, Barred Forest-Falcon, White Hawk, Brown-hooded Parrot, Scarlet Macaw, Bronzy Hermit, Yellow-billed Cotinga, White-whiskered Puffbird, Red-crowned Woodpecker, Rufous-winged Woodpecker, Black-striped Woodcreeper, Plain Xenops, Cocoa Woodcreeper, Tawny-winged Woodcreeper, Barred Woodcreeper, Buff-throated Foliage-Gleaner, Riverside Wren, Tawny-crowned Greenlet, Thrushlike Manakin, Blue-crowned Manakin, Red-capped Manakin, Rufous Piha, Golden-crowned Spadebill, Sulphur-rumped Flycatcher, Ruddy-tailed Flycatcher, Ochre-bellied Flycatcher, Grey-headed Tanager, Bay-headed Tanager, White-throated Shrike-Tanager, Slaty Antwren, Tropical Gnatcatcher, Long-billed Gnatwren, Dotted-winged Antwren, Black-cheeked Ant-Tanager, Mourning Warbler.
Friday 14th April
The return of the giant yellow bird
Another night of raging storms. I'll admit in hindsight to a good deal of nerves about the journey back, largely due to its spectacular set of rather tenuous connections, that simply all had to make it in order to get us home. Walk, boat, dodgy suspension bridge, bus, plane, car, plane, plane, train, train, walk, home. Would it all work? The morning storms looked ominous, although having a father who seems more concerned than you is always a calming influence. Panic panic panic gets replaced by "yeah, no worries, it'll be fine". And anyway, there are worse fates than being stuck in Costa Rica.
Anyway, it all worked out smoother than a baby's whatsit. We even had time to go birding in the mangroves, and get stuck in the weeds next to a Purple Gallinule, before easing up to the surprisingly suspended bridge and crawling back on the prehistoric bus. We even squeezed Bronzed Cowbird and Smooth-billed Ani onto the bird list before Palmar Sur airfield. At San José we were emotionally reunited with out gumboots and Roberto discussed his sporting conquests on the way to the international airport. Martijn and Marianne were at the check-in desk and told us wonderful stories of their days of leisure by the coast, while we totally failed to impress them with our anecdotes of bathing bronzed nymphets in rainforest glades, and five star cooking with ocean views. A last and ultra bueno Costa Rican coffee and then up and over the Turkey Vultures and off to Houston where the same fluorescent Boeing 777 was waiting to escort us back over the pond. A few hours in the stratosphere was as good a time and place as any to compile the "official" "official" bird list.
Bird of the Day: Yellow-billed Cotinga. Two sexy white puffs in the mangroves on our way out of Marenco.
Saturday 15th April
If it wisnae for yer wellies where wid ye be?
We landed in Gatwick to a miserable 7 degrees. Drizzly, grey, dull, damp, dark, cold. Bloody awful. Almost wet enough in fact to tempt us to sport our massively underused rubber boots for the very first time on the trip (I hope they enjoyed the holiday). But the recent memories kept us warm and glowing. Memories of birds. Blue birds, green birds, yellow birds, red birds, enormous birds, diminutive birds, loud birds, silent birds, black-and-white spotted-winged birds, bright blue-plumed birds, dangling-wattled birds, streaming-green-tailed birds. And Mario birds of course. Everybody sees their own bird, and we had seen a lot of them. Costa Rica is a very pura vida place.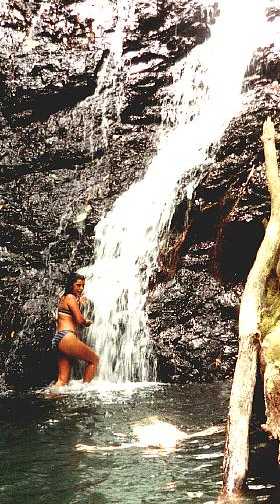 Pura Vida!
This is the immensely dull section at the end of the report that anyone with any sense will avoid reading. Almost all records included here are of birds (and mammals) seen in Costa Rica, mainly because we were just too damn ignorant to be able to identify any species heard only. The only exceptions are Prong-billed Barbet, which has a pretty unmistakable call, and Little Tinamou, both of which insisted on being the antithesis of Victorian children by being heard but not seen.
Birds
| | | | | | | | | | | | | | |
| --- | --- | --- | --- | --- | --- | --- | --- | --- | --- | --- | --- | --- | --- |
| | SJ | RS | LS | PA | TO | LP | PV | MV | TR | CA | MA | CO | PS |
| Great Tinamou | | | LS | | | | | | | | | CO | |
| Little Tinamou | | | | | | | | | | | | CO | |
| Brown Pelican | | | | PA | TO | | | | TR | | MA | CO | |
| Brown Booby | | | | | | | | | | | | CO | |
| Olivacious Cormorant | | | | | TO | | | | TR | | | | |
| American Anhinga | | | LS | PA | TO | | | | | CA | | | |
| Magnificent Frigatebird | | | | | TO | | | | TR | | MA | CO | |
| Cattle Egret | | RS | | PA | | | PV | | | CA | | | |
| Green-backed Heron | | | | | TO | | PV | | | CA | | | |
| Little Blue Heron | | | LS | PA | TO | | | | TR | | | | |
| Tricolored Heron | | | | | TO | | | | TR | | | | |
| Snowy Egret | | | | | TO | | | | | | | | |
| Great Egret | | | LS | PA | | | PV | | | | | | |
| Great Blue Heron | | | | | TO | | PV | | TR | | | | |
| Bare-throated Tiger-Heron | | | | | TO | LP | | | | | | | |
| Boat-billed Heron | | | | PA | | | | | | CA | | CO | |
| Wood Stork | | | | | | | PV | | | | | | |
| Green Ibis | | | LS | | | | | | | | | | |
| American White Ibis | | | | | | | PV | | TR | | | | |
| Glossy Ibis | | | | | | | PV | | | | | | |
| Roseate Spoonbill | | | | | | | PV | | | CA | | | |
| Black-bellied Whistling-Duck | | | | | | LP | PV | | | | | | |
| Muscovy Duck | | | | | | | | | TR | | | | |
| Blue-winged Teal | | | | | | | PV | | | | | | |
| Turkey Vulture | | RS | LS | PA | TO | | PV | | TR | CA | | | |
| Black Vulture | | RS | LS | PA | TO | LP | PV | | TR | | MA | CO | |
| King Vulture | | | LS | | | | | | | | | | |
| Osprey | | | LS | | TO | | PV | | TR | | | | |
| Gray-headed Kite | | | | | | | | | | | | CO | |
| Swallow-tailed Kite | | | | | | | | MV | | | MA | | |
| Semiplumbeous Hawk | | | LS | | | | | | | | | | |
| White Hawk | | | | | | | | | | | MA | | |
| Common Black-Hawk | | | | PA | TO | | | | | | | CO | |
| Gray Hawk | | | | | | | PV | | | | | | |
| Roadside Hawk | | | | | | | PV | | | | | | |
| Broad-winged Hawk | | | | | | | | | | CA | | | |
| Red-tailed Hawk | | RS | | | | | | | | | | | |
| Black-and-white Hawk-Eagle | | | | | TO | | | | | | | | |
| Crested Caracara | | | | | | LP | PV | | | | | | |
| Yellow-headed Caracara | | | | | | | | | TR | | MA | | |
| Laughing Falcon | | | | | | | PV | | | | | | |
| Barred Forest-Falcon | | | | | | | | | | | MA | | |
| Merlin | | | | PA | | | | | | | | | |
| Gray-headed Chachalaca | | | LS | | | | | | | | | | |
| Crested Guan | | | LS | | | | | | | | | | |
| Black Guan | | | | | | | | MV | | | | | |
| Limpkin | | | | | TO | | PV | | | | | | |
| Gray-necked Wood-Rail | | | | | TO | LP | | | | | | | |
| Purple Gallinule | | | | | | | | | | | | | PS |
| Sungrebe | | | | | TO | | | | | | | | |
| Northern Jacana | | | | | TO | | PV | | | CA | | | |
| Black-bellied Plover | | | | PA | | | | | TR | | | | |
| Collared Plover | | | | PA | | | | | TR | | | | |
| Whimbrel | | | | PA | | | | | TR | | | | |
| Long-billed Curlew | | | | | | | | | TR | | | | |
| Solitary Sandpiper | | | | | TO | | PV | | TR | | | | |
| Willet | | | | | | | | | TR | | | | |
| Spotted Sandpiper | | | | PA | | | PV | | TR | | | | |
| Wandering Tattler | | | | | | | | | | | MA | | |
| Ruddy Turnstone | | | | | | | | | TR | | | | |
| Western Sandpiper | | | | | TO | | | | | | | | |
| Black-necked Stilt | | | | | | | PV | | TR | | | | |
| Double-striped Thick-Knee | | | | | | | PV | | | | | | |
| Laughing Gull | | | | | | | | | TR | | MA | | |
| Royal Tern | | | | PA | TO | | | | | | | | |
| Sandwich Tern | | | | | TO | | | | | | | | |
| Rock Dove | SJ | | | | | | | | | | | | |
| Pale-vented Pigeon | | | | PA | | | | | | | | | |
| Red-billed Pigeon | | | | | | | | MV | | | | | |
| Ruddy Pigeon | | RS | | | | | | | | | | | |
| Short-billed Pigeon | | | LS | | TO | | | | | CA | MA | CO | |
| Mourning Dove | | | | | | | | | | CA | | | |
| White-winged Dove | | | | | | | PV | | | | | | |
| Common Ground-Dove | | | | | | | PV | | | | | | |
| Ruddy Ground-Dove | | | | | | | | | | CA | MA | | |
| Inca Dove | | | | | | | PV | | | | | | |
| Blue Ground-Dove | | | LS | | | | | | | | | | |
| White-tipped Dove | | | | | | | PV | MV | TR | CA | MA | CO | |
| Gray-chested Dove | | | LS | | | | | | | | | CO | |
| Scarlet Macaw | | | | | | | | | TR | CA | MA | CO | |
| Crimson-fronted Parakeet | SJ | | | | | | PV | | | | | | |
| Olive-throated Parakeet | | | LS | | | | | | | | | | |
| Sulphur-winged Parakeet | | RS | | | | | | | | | | | |
| Orange-chinned Parakeet | | | LS | | | | PV | | TR | | MA | | |
| Brown-hooded Parrot | | | | | | | | | | | MA | | |
| Blue-headed Parrot | | | | PA | | | | | | | | | |
| White-crowned Parrot | | | LS | PA | | | | | | | | | |
| White-fronted Parrot | | | | | | | PV | | | | | | |
| Red-lored Parrot | | | LS | | | | | | TR | CA | MA | | |
| Yellow-naped Parrot | | | | | | | PV | | | | | | |
| Mealy Parrot | | | LS | | | | | | | | | | |
| Squirrel Cuckoo | | | LS | | TO | | | | | | | | |
| Smooth-billed Ani | | | | | | | | | | | | | PS |
| Groove-billed Ani | | | | PA | TO | | PV | | TR | | | | |
| Striped Cuckoo | | | LS | | | | | | TR | | | | |
| Pacific Screech-Owl | | | | | | | | | TR | | | | |
| Ferruginous Pygmy-Owl | | | | | | | PV | | TR | | | | |
| Common Pauraque | | | LS | | TO | | | | | | MA | | |
| White-collared Swift | | RS | LS | | | | | | TR | | | | |
| Gray-rumped Swift | | | LS | | | | | | | | | | |
| Vaux's Swift | | | | PA | | | | | | | | | |
| Bronzy Hermit | | | | | | | | | | | MA | | |
| Green Hermit | | | | | | | | MV | | | | | |
| Long-tailed Hermit | | | LS | | TO | | | | | CA | MA | CO | |
| Little Hermit | | | LS | | | | | | | | MA | | |
| Violet Sabrewing | | | | | | | | MV | | | | | |
| White-necked Jacobin | | | | | | | | | | CA | MA | | |
| Green Violet-Ear | | RS | | | | | | MV | | | | | |
| Blue-chested Hummingbird | | | LS | | | | | | | | | | |
| Cinnamon Hummingbird | | | | | | LP | PV | | | | | | |
| Rufous-tailed Hummingbird | | | LS | PA | TO | | | | | | MA | | |
| Coppery-headed Emerald | | | | | | | | MV | | | | | |
| Purple-throated Mountain-Gem | | RS | | | | | | MV | | | | | |
| Gray-tailed Mountain-Gem | | RS | | | | | | | | | | | |
| Green-crowned Brilliant | | | | | | | | MV | | | | | |
| Magnificent Hummingbird | | RS | | | | | | MV | | | | | |
| Purple-crowned Fairy | | | | | | | | | | CA | | | |
| Magenta-throated Woodstar | | | | | | | | MV | | | | | |
| Volcano Hummingbird | | RS | | | | | | | | | | | |
| Scintillant Hummingbird | | RS | | | | | | | | | | | |
| Resplendent Quetzal | | RS | | | | | | MV | | | | | |
| Slaty-tailed Trogon | | | LS | | TO | | | | | CA | | | |
| Baird's Trogon | | | | | | | | | | CA | | | |
| Black-headed Trogon | | | | | | LP | | | | | | | |
| Collared Trogon | | RS | | | | | | | | | | | |
| Black-throated Trogon | | | LS | | | | | | | | | CO | |
| Violaceous Trogon | | | | PA | | | | | | CA | | | |
| Ringed Kingfisher | | | LS | PA | TO | | | | | | | | |
| Belted Kingfisher | | | | | TO | | | | | | | | |
| Amazon Kingfisher | | | LS | | | | | | | | | | |
| Green Kingfisher | | | LS | | TO | | | | TR | | | CO | |
| Green-and-rufous Kingfisher | | | | | TO | | | | | | | | |
| American Pygmy Kingfisher | | | | | TO | | | | | | | | |
| Turquoise-browed Motmot | | | | | | | PV | | TR | | | | |
| Rufous Motmot | | | LS | | | | | | | | | | |
| Blue-crowned Motmot | | | | | | | | MV | TR | | MA | | |
| Rufous-tailed Jacamar | | | LS | | | | | | | | | | |
| White-necked Puffbird | | | | PA | | | | | | | | | |
| Pied Puffbird | | | LS | | | | | | | | | | |
| White-whiskered Puffbird | | | | | | | | | | | MA | | |
| Prong-billed Barbet | | | | | | | | MV | | | | | |
| Emerald Toucanet | | | | | | | | MV | | | | | |
| Collared Aracari | | | LS | | TO | | | | | | | | |
| Fiery-billed Aracari | | | | | | | | | TR | | MA | | |
| Keel-billed Toucan | | | LS | | TO | | | | | | | | |
| Chestnut-mandibled Toucan | | | LS | | TO | | | | | | MA | CO | |
| Acorn Woodpecker | | RS | | | | | | | | | | | |
| Red-crowned Woodpecker | | | | | | | | | | | MA | CO | |
| Black-cheeked Woodpecker | | | LS | PA | | | | | | | | | |
| Hoffman's Woodpecker | | | | | | | PV | | TR | CA | | | |
| Rufous-winged Woodpecker | | | | | | | | | | | MA | | |
| Cinnamon Woodpecker | | | | | TO | | | | | | | | |
| Lineated Woodpecker | | | | | TO | | | | | | | | |
| Pale-billed Woodpecker | | | LS | | TO | | | | | | | | |
| Plain-brown Woodcreeper | | | LS | | | | | | | | | | |
| Tawny-winged Woodcreeper | | | | | | | | | | | MA | | |
| Wedge-billed Woodcreeper | | | LS | | | | | | | CA | MA | CO | |
| Barred Woodcreeper | | | | | | | | | | | MA | | |
| Buff-throated Woodcreeper | | | LS | | | | | | | | | | |
| Cocoa Woodcreeper | | | | | | | | | | | MA | CO | |
| Black-striped Woodcreeper | | | | | | | | | | | | CO | |
| Streaked-headed Woodcreeper | | | | | | | | | | CA | | | |
| Spotted-crowned Woodcreeper | | RS | | | | | | | | | | | |
| Ruddy Treerunner | | RS | | | | | | MV | | | | | |
| Spotted Barbtail | | | | | | | | MV | | | | | |
| Buff-throated Foliage-Gleaner | | | | | | | | | | | MA | CO | |
| Plain Xenops | | | | | | | | | | | MA | CO | |
| Great Antshrike | | | LS | | | | | | | | | | |
| Barred Antshrike | | | | | | | | | | CA | | | |
| Black-hooded Antshrike | | | | | | | | | | CA | MA | | |
| Slaty Antshrike | | | | PA | | | | | | | | | |
| Russet Antshrike | | | LS | | | | | | | | MA | | |
| Slaty Antwren | | | | | | | | | | | MA | | |
| Dot-winged Antwren | | | | | | | | | | | MA | | |
| Dusky Antwren | | | LS | | | | | | | CA | | | |
| Chestnut-backed Antbird | | | | | | | | | | CA | MA | CO | |
| Black-faced Antthrush | | | LS | | | | | | | | MA | CO | |
| Cinnamon Becard | | | | | | | | | TR | | | | |
| Rose-throated Becard | | | | | | | | | | CA | | | |
| Masked Tityra | | | LS | | | | | | | | MA | CO | |
| Yellow-billed Cotinga | | | | | | | | | | | | | PS |
| Rufous Piha | | | | | | | | | | | MA | CO | |
| Purple-throated Fruitcrow | | | | PA | TO | | | | | | | | |
| Three-wattled Bellbird | | | | | | | | MV | | | | | |
| Rufous Mourner | | | LS | | | | | | | | | | |
| Red-capped Manakin | | | LS | | | | | | | | MA | CO | |
| Blue-crowned Manakin | | | | | | | | | | | MA | CO | |
| Long-tailed Manakin | | | | | | LP | | | | | | | |
| White-collared Manakin | | | LS | PA | TO | | | | | | | | |
| Orange-collared Manakin | | | | | | | | | | CA | | | |
| Thrushlike Manakin | | | | | | | | | | | MA | | |
| Black Phoebe | | RS | | | | | | | | | | | |
| Long-tailed Tyrant | | | LS | | | | | | | | | | |
| Scissor-tailed Flycatcher | | | | | | | PV | | TR | | | | |
| Eastern Kingbird | | | | PA | TO | | | | | | MA | | |
| Tropical Kingbird | | RS | LS | | | | PV | | TR | CA | MA | | |
| Piratic Flycatcher | | | LS | | | | | | | CA | | | |
| White-ringed Flycatcher | | | | PA | | | | | | | | | |
| Boat-billed Flycatcher | | RS | | | | | | | | | | | |
| Sulphur-bellied Flycatcher | | | LS | | | | | | | CA | | | |
| Gray-capped Flycatcher | | | LS | | | | | | | | | | |
| Social Flycatcher | | | LS | PA | TO | | | | | | | | |
| Great Kiskadee | | | LS | PA | | | PV | | | CA | MA | | |
| Panama Flycatcher | | | | | | | | | TR | | | | |
| Brown-crested Flycatcher | | | | | | | | MV | | | | | |
| Great-crested Flycatcher | | | | | | | | | | CA | | | |
| Dusky-capped Flycatcher | | | LS | | | | | | | | MA | | |
| Bright-rumped Attila | | | LS | | | | | MV | | | MA | | |
| Olive-sided Flycatcher | | | | | | | | MV | | | | | |
| Wood-Pewee sp. | | RS | | | | | | | | | | | |
| Tropical Pewee | | | | PA | TO | | | | | CA | | | |
| Yellowish Flycatcher | | RS | | | | | | MV | | | | | |
| Black-capped Flycatcher | | RS | | | | | | | | | | | |
| Ruddy-tailed Flycatcher | | | | | | | | | | | | CO | |
| Sulphur-rumped Flycatcher | | | | | | | | | | | | CO | |
| Royal Flycatcher | | | | | | | | | | CA | | | |
| Golden-crowned Spadebill | | | | | | | | | | | MA | CO | |
| Black-headed Tody-Flycatcher | | | | | TO | | | | | | | | |
| Common Tody-Flycatcher | | | LS | PA | TO | | | | | CA | MA | | |
| Black-capped Pygmy-Tyrant | | | LS | | | | | | | | | | |
| Yellow Tyrannulet | | | LS | | | | | | | | | | |
| Yellow-bellied Elaenia | | | LS | | TO | | | MV | | | | | |
| Mistletoe Tyrannulet | | | | | | | | | | CA | | | |
| Olive-striped Flycatcher | | | | | | | | MV | | | | | |
| Ochre-bellied Flycatcher | | | | | | | | | | | | CO | |
| Mangrove Swallow | | | | PA | TO | | | | TR | | | | |
| Purple Martin | | | | | | | | | TR | | | | |
| Blue-and-white Swallow | | RS | | | | | | MV | | | | | |
| S. Rough-winged Swallow | | | LS | | | | | | | | MA | | |
| Barn Swallow | | | LS | PA | | | PV | | TR | | MA | | |
| Azure-hooded Jay | | | | | | | | MV | | | | | |
| Brown Jay | | | | | | | | MV | | CA | | | |
| Magpie Jay | | | | | | LP | PV | | | | | | |
| Rufous-naped Wren | | | | | | LP | PV | | TR | CA | | | |
| Banded-backed Wren | | | LS | | | | | | | | | | |
| Bay Wren | | | LS | | | | | | | | | | |
| Riverside Wren | | | | | | | | | | | MA | | |
| Striped-breasted Wren | | | | | TO | | | | | | | | |
| Banded Wren | | | | | | LP | | | | | | | |
| House Wren | SJ | | | | TO | | | | | | MA | | |
| Ochraceous Wren | | RS | | | | | | MV | | | | | |
| White-breasted Wood-Wren | | | | PA | | | | | | | | | |
| Gray-breasted Wood-Wren | | | | | | | | MV | | | | | |
| Black-faced Solitaire | | RS | | | | | | MV | | | | | |
| Black-billed Nightingale-Thrush | | RS | | | | | | | | | | | |
| Ruddy-capped Nightingale-Thrush | | RS | | | | | | | | | | | |
| Swainson's Thrush | | RS | LS | PA | | LP | | | | CA | MA | | |
| Sooty Robin | | RS | | | | | | | | | | | |
| Mountain Robin | | | | | | | | MV | | | | | |
| Clay-colored Robin | SJ | RS | LS | | TO | LP | | | | | | | |
| White-throated Robin | | | | | | | | MV | | | | | |
| Long-billed Gnatwren | | | | | | | | | | | MA | | |
| White-lored Gnatcatcher | | | | | | | PV | | | | | | |
| Tropical Gnatcatcher | | | | | | | | | | | MA | | |
| Long-tailed Silky-Flycatcher | | RS | | | | | | | | | | | |
| Solitary Vireo | | | | PA | | | | | | | | | |
| Red-eyed Vireo | | | LS | PA | | | | | | | | | |
| Tawny-crowned Greenlet | | | | | | | | | | | MA | CO | |
| Lesser Greenlet | | | LS | | TO | | | | | CA | | CO | |
| Bananaquit | | | LS | | | | | | | | MA | | |
| Black-and-white Warbler | | | | PA | TO | | | | | | | | |
| Golden-winged Warbler | | RS | LS | | | | | | | | | | |
| Flame-throated Warbler | | RS | | | | | | | | | | | |
| Yellow Warbler | | RS | | | | | PV | | TR | | MA | | |
| Chestnut-sided Warbler | | | LS | | TO | | | | | | | | |
| Townsend's Warbler | | RS | | | | | | | | | | | |
| Black-throated Green Warbler | | | | | | | | MV | | | | | |
| Prairie Warbler | | | | | | | | MV | | | | | |
| Northern Waterthrush | | | | PA | TO | | PV | | TR | CA | | | |
| Prothonotary Warbler | | | | PA | | | | | | | | | |
| Olive-crowned Yellowthroat | | | LS | | | | | | | | | | |
| Mourning Warbler | | | | | | | | | | | MA | | |
| Wilson's Warbler | | RS | | | | | | MV | | | | | |
| Slate-throated Redstart | | | | | | | | MV | | | | | |
| Collared Redstart | | RS | | | | | | MV | | | | | |
| Golden-crowned Warbler | | | | | | | | MV | | | | | |
| Three-striped Warbler | | | | | | | | MV | | | | | |
| Buff-rumped Warbler | | | LS | | | | | | | | MA | CO | |
| Montezuma Oropendola | | | LS | PA | TO | | | | | | | | |
| Scarlet-rumped Cacique | | | LS | | | | | | | | | | |
| Yellow-billed Cacique | | | LS | | | | | | | | | | |
| Baltimore (Northern) Oriole | SJ | | | PA | TO | | PV | | TR | | | | |
| Black-cowled Oriole | | | LS | | | | | | | | | | |
| Red-winged Blackbird | | | | | | | PV | | | | | | |
| Eastern Meadowlark | SJ | | | | | | | | | | | | |
| Great-tailed Grackle | SJ | | | | TO | LP | PV | MV | TR | | MA | CO | |
| Bronzed Cowbird | | | | | | | | | | | | | PS |
| Common Bush-Tanager | | RS | | | | | | MV | | | | | |
| Sooty-capped Bush-Tanager | | | | | | | | MV | | | | | |
| Gray-headed Tanager | | | | | | | | | | | MA | | |
| White-throated Shrike-Tanager | | | | | | | | | | | MA | CO | |
| White-shouldered Tanager | | | | | | | | | | CA | MA | | |
| Red-throated Ant-Tanager | | | LS | PA | | | | | | | | | |
| Black-cheeked Ant-Tanager | | | | | | | | | | | MA | CO | |
| Flame-colored Tanager | | RS | | | | | | | | | | | |
| Summer Tanager | | | LS | PA | | | | | | | | | |
| Scarlet Tanager | | | LS | | | | PV | | | | MA | | |
| Western Tanager | | RS | | | | | | | | | | | |
| Crimson-collared Tanager | | | LS | | | | | | | | | | |
| Passerini's Tanager | | | LS | | | | | | | | | | |
| Cherrie's Tanager | | | | | | | | | | CA | MA | | |
| Blue-gray Tanager | | | LS | | TO | | | | | | | | |
| Palm Tanager | | | LS | | TO | | | | | | MA | | |
| Yellow-crowned Euphonia | | | | | | | | | TR | | | | |
| Yellow-throated Euphonia | | | | | | | | | | CA | | | |
| Olive-backed Euphonia | | | LS | | | | | | | | | | |
| Silver-throated Tanager | | | | | | | | MV | | | | | |
| Bay-headed Tanager | | | | | | | | | | | MA | | |
| Golden-hooded Tanager | | | LS | | TO | | | | | | MA | | |
| Spangled-cheeked Tanager | | | | | | | | MV | | | | | |
| Blue Dacnis | | | LS | | | | | MV | | | | CO | |
| Green Honeycreeper | | | LS | | | | | | | | MA | | |
| Shining Honeycreeper | | | LS | | TO | | | | | | MA | CO | |
| Red-legged Honeycreeper | | | | | | | | MV | | CA | MA | CO | |
| Buff-throated Saltator | | | LS | | | | | | | CA | | | |
| Black-faced Grosbeak | | | LS | | | | | | | | | | |
| Black-thighed Grosbeak | | RS | | | | | | | | | | | |
| Blue Grosbeak | | | | | | | PV | | | | | | |
| Blue-black Grosbeak | | | LS | | | | | | | | MA | CO | |
| Yellow-faced Grassquit | | | | | | | | MV | TR | | | | |
| Variable Seedeater | | | LS | PA | | | PV | | TR | CA | MA | | |
| Blue-black Grassquit | | | | | | | | | TR | CA | MA | | |
| Slaty Flowerpiercer | | RS | | | | | | | | | | | |
| Yellow-thighed Finch | | RS | | | | | | | | | | | |
| Yellow-throated Brush-Finch | | | | | | | | MV | | | | | |
| Chestnut-capped Brush-Finch | | | | | | | | MV | | | | | |
| Orange-billed Sparrow | | | LS | | | | | | | CA | MA | | |
| Black-striped Sparrow | | | LS | | | | | | | | MA | | |
| White-eared Ground-Sparrow | | | | | | | | MV | | | | | |
| Stripe-headed Sparrow | | | | | | | PV | | TR | | | | |
| Rufous-collared Sparrow | | RS | | | | | | MV | | | | | |
| House Sparrow | SJ | | | | | | | | | | | | |
Mammals
| | | | | | | | | | | | | | |
| --- | --- | --- | --- | --- | --- | --- | --- | --- | --- | --- | --- | --- | --- |
| | SJ | RS | LS | PA | TO | LP | PV | MV | TR | CA | MA | CO | PS |
| White-faced Capuchin | | | | PA | TO | | PV | | | CA | MA | CO | |
| Mantled Howler Monkey | | | LS | | TO | | | MV | | | MA | CO | |
| Central American Spider Monkey | | | | | TO | | | | | | | CO | |
| Three-toed Sloth | | | LS | | | | | | | | | | |
| Red-tailed Squirrel | | RS | | | | | | | | | MA | CO | |
| Variegated Squirrel | | | LS | | | LP | | | | CA | | | |
| Central American Agouti | | | LS | | | | | MV | | | MA | CO | |
| Neotropical Otter | | | | | TO | | | | | | | | |
| White-nosed Coati | | | | | | | PV | | | CA | | CO | |
| Collared Peccary | | | LS | | | | | | | | | | |
| White-tailed Deer | | | | | | | PV | | | CA | | | |
| Tapiti | | | LS | | | | | | | | | | |